Locate Jewellery Finders
We specialise in finding your lost property from car keys, phones to wedding rings - we can find it!
Contact Us
Available Locations
Are you a metal detectorist? Ready to help people in your community? Join a location already provided or we can create a new one for you, worldwide.
View Available Locations
Join LJR Worldwide
Join our community and put your skills and knowledge to honourable use in helping others. Still thinking? See why you should join?
Join Us
Lost Jewellery Recovery
If it's there we will find it!
Lost Jewellery Recovery Worldwide is a directory for our community of devoted metal detecting enthusiasts, who share our love for keeping our parks and waterways trash free, while reuniting lost jewellery with their rightful owners.
Read More
Success Stories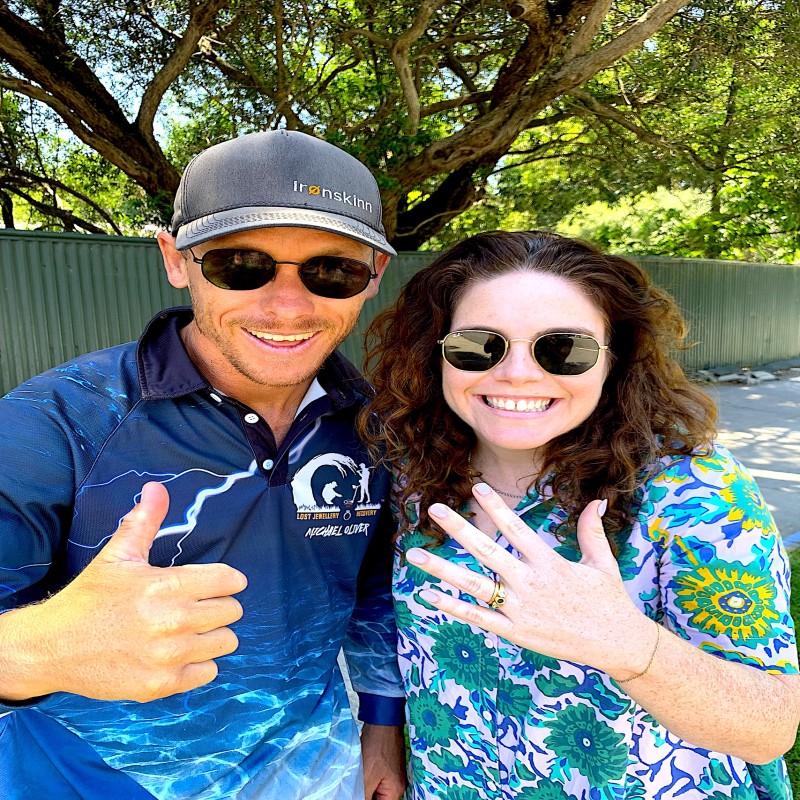 Alex Lost 2 Precious Gold Rings Underwater
GOLD AND DIAMOND WEDDING RING FOUND AND RETURNED TO OWNER.. JACKSONVILLE BEACH, FL.
Found Owners Lost Ring at Clontarf Beach Sydney Australia
James 6th Year Marriage Anniversary, Lost His Ring today
Newly Wed's Lost Wedding Ring Recovered, Palm Beach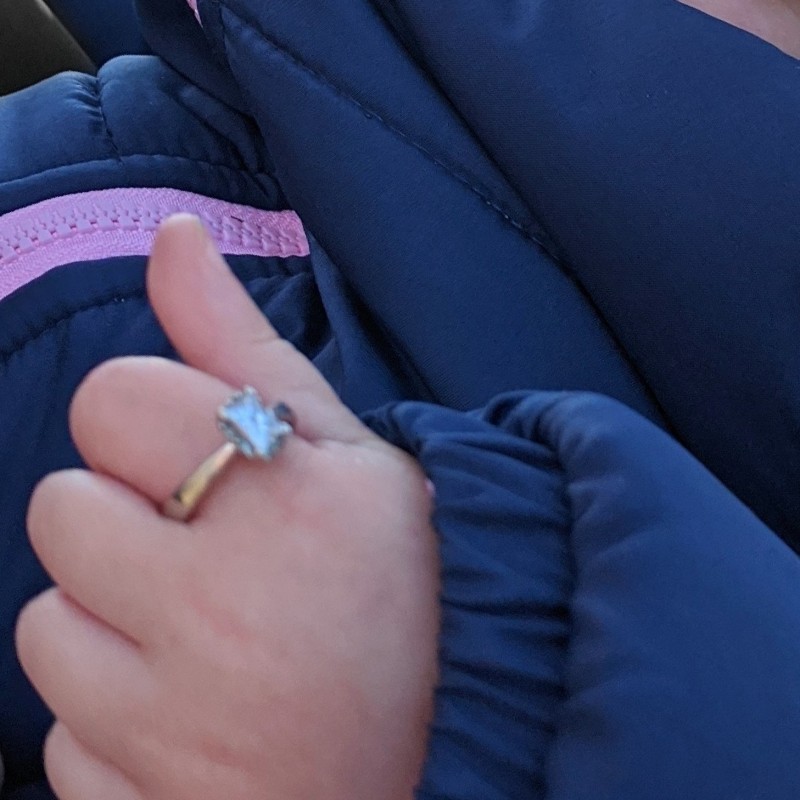 Reunited Jackie with her Mother's Wedding Ring
2ct engagement ring lost Napili Bay
18k Lost Gold Chain at Dee Why Beach, returned to owner
Lost Pendant Found in Lincoln RI
Lost Ring Found in Charlestown, RI 6/26/2023
Ring recovered sports fields mackay
Reviews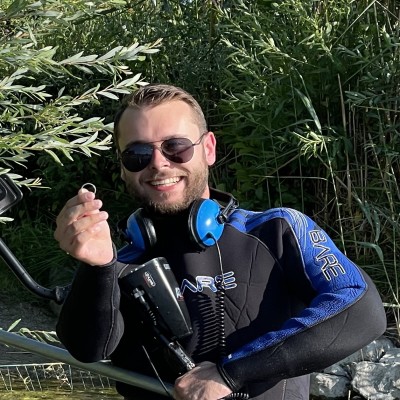 Mein Mann hat seinen Ehering im Erlichsee verloren, daher haben wir Ringfinder.eu kontaktiert. Nach kurzem Kontakt über WhatsApp ging die Suche ein paar Tage später auch schon los und war nach 2 Stunden erfolgreich. Super sympathischer Taucher. Sehr empfehlenswert! Vielen Dank!
Tinka Mitchell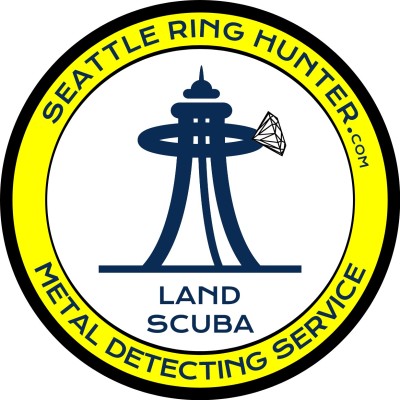 Jeff was our ring finding hero!! After losing my engagement ring in our yard days after the proposal, I discovered Jeff through the ring finders website. He was so reassuring and kind and came to our house the same day I called. Using his expertise and tools he found the ring, buried in wood chips, within 30 minutes! My fiancé and I are amazed and so deeply grateful for his help. Carolyn - Shoreline, WA
Jeff was our ring finding hero!!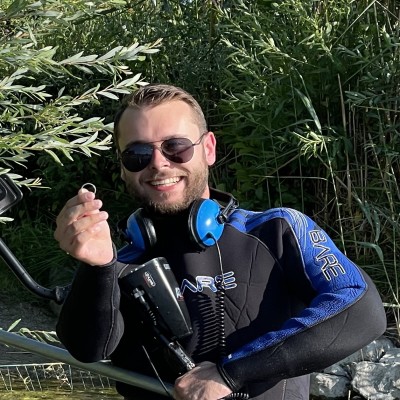 Hatte bei der Telefonnummer von der Internetseite angerufen und innerhalb von 5 Minuten einen Rückruf bekommen. Mir wurde auf Rügen sofort ein Ringfinder vermittelt, mit dem ich noch am gleichen Abend auf die Suche ging. Auch wenn wir meinen Ring leider nicht mehr finden konnten, lag es sicher nicht am Ringfinder oder seiner Ausstattung. Alles war sehr professionell und er nahm sich sogar noch einen weiteren Abend, um noch zusätzlich mit seinem Sohn nach meinem Ring zu suchen.
Karl Hansmeister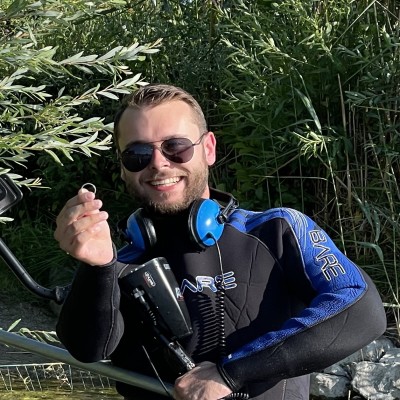 5 Stunden nach Kontaktaufnahme war der Ring gefunden! Super, top, danke!
Xian Xian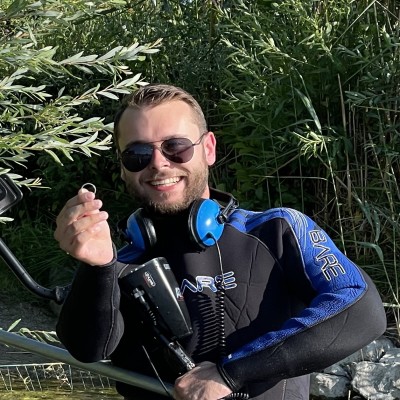 Vielen Dank für die sehr spontane und sehr schnelle Hilfe ! Ring war 1Woche im Neckar und konnte zügig gefunden werden. Sehr professionelle Geräte und viel Erfahrung machten dies möglich.
Philip Christner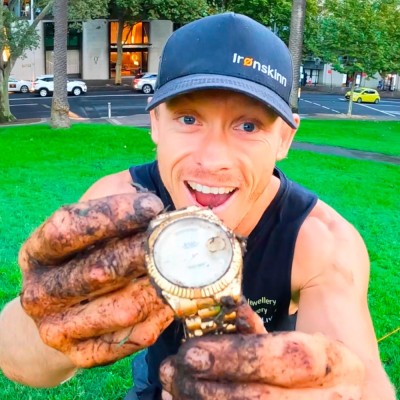 Thank You Michael Oliver from lost jewellery recovery, you legend you found my lost ring in just a few minutes and we searched for over an hour for it. I'm going to let everyone I know about you, it's really cool your metal detecting service is worldwide. I can't explain how much this ring means to me, you must make a-lot of people happy. What an incredibly rewarding job you have. Thank you.
lost ring Bronte Beach, Sydney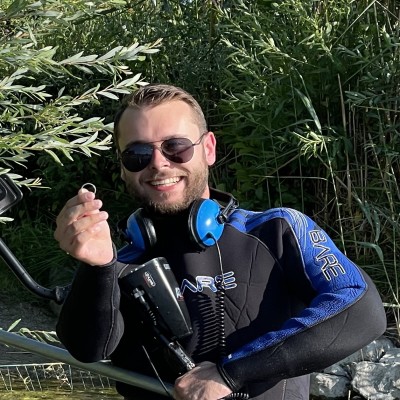 Ringfinder kann ich besten Gewissens empfehlen! Vielen Dank an Pascal und an Janik, vom Kontakt bis zur Ausführung war alles sehr freundlich und professionell. Ihr habt es geschafft mein Handy aus einem 7m tiefen See zu bergen, nachdem ich die Hoffnung schon fast aufgegeben hatte. Versunken ist das Handy mit einer wasserdichten Hülle und es ist tatsächlich unbeschädigt! Ohne Euch hätte ich mein Handy und meine Daten nie wieder gesehen, vielen lieben Dank und alles Gute!
Elena Hoffmann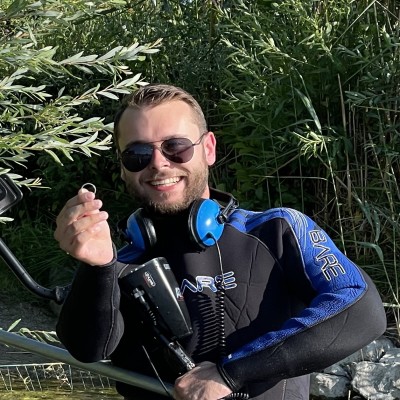 Meine Frau hat am 28.07.2021 ihren Ehering beim Baden in der Ostsee verloren. Noch in der selben Nacht hat uns Kai von Ringfahnder.de beraten und an Marcel und Lukas von Ringfinder.eu vermittelt. Mit den beiden haben wir uns am Abend des Folgetages zur Suche am Strand getroffen. Die beiden sind bestens ausgerüstet, erfahren, strukturiert und super freundlich. Während Lukas den Strand durchkämmt hat, ist Marcel ins Wasser gegangen. Nach gefühlten 2 Minuten war der Ring gefunden. Unglaublich! Von uns für alle Beteiligten eine klare Empfehlung in den Punkten: Kommunikation, Vertrauenswürdigkeit, Zuverlässigkeit und Professionalität. 1000 Dank noch einmal an alle und beste Grüße
Tamer Saka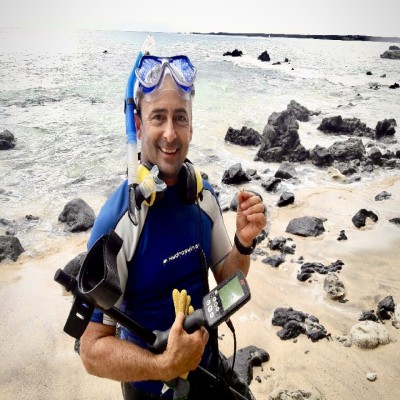 The weekend was off to a great start. My family and I were enjoying a sunny day on St. Augustine beach when suddenly I realized that my engagement ring had slipped off my finger in ankle deep water. We immediately began searching, attempting to take current and undertow into consideration. After an hour of searching we began googling someone to help. Adams name popped up and we gave him a call. He was extremely easy to communicate with and was headed our way in minutes. He showed up ready to search. HE FOUND MY RING. Both myself and my fiancé are so thankful for Adam and all he does! We cannot recommend his services enough. If you lost an item…Adam can find it! #Lostringflorida#LostJewelleryRecovery#LostJewelleryRecoveryStAugustine#metaldetectorrental#floridametaldetector#
Recovered engagement ring. St. Augustine, Fl.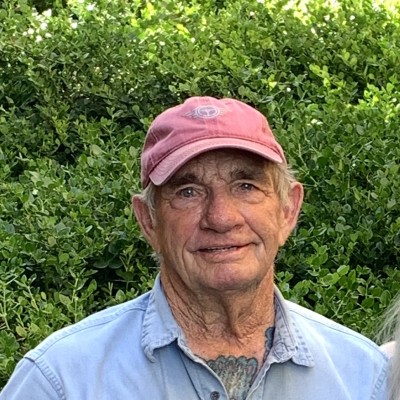 A short time ago this afternoon I arrived at my Aunt and Uncle's Vacation rental in #NewportBeach to a somber scene. It turned out that my Nana, Fina, walked out to the water and lost her footing when a small wave hit her and knocked her down. Upon getting up and drying off, she realized that her wedding ring was gone 😢. As most of you know, my Grandfather just passed away about a month ago, so his loss, coupled by today's situation, were becoming quickly too much for her to handle. Thanks to some quick thinking by my Cousin, Nicodemus, he was able to find Stan, the Metal Detector Man, a local businessman who quickly arrived and within an hour, he had my Grandmother's ring back on her finger!!! What could have been a disaster emotionally turned out to be a story we will remember forever. Thanks, Stan! You have no idea how much we appreciate what you were able to do!!
50 year old wedding band lost in surf, Newport Beach, California .. Recovered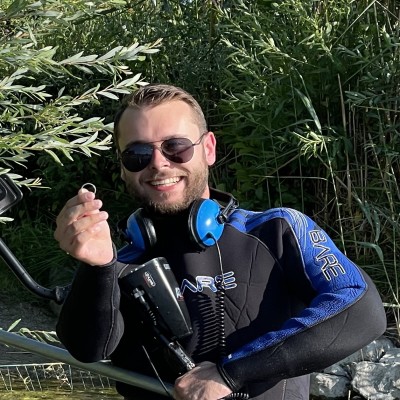 Vor 3 Wochen habe ich beim Ballwerfen für meinen Hund meinen Ehering verloren. Da dieser mit dem Vorsteckring und dem Ehering meiner verstorbenen Mutter zusammen gelötet war , stellte er für mich einen sehr hohen emotionalen Wert dar. Trotz häufiger Suche ,auch mit einem Metalldetektor ,haben wir ihn nicht gefunden. Über FB bekam ich den Tipp, Kontakt zu den Ringfindern aufzunehmen. Innerhalb einer Stunde, nach dem ersten Gespräch, hat sich Björn bei mir gemeldet und am selben Tag mehrere Stunden die Wiese abgesucht. Leider ohne Erfolg. Er hat 3 Tage später, nochmal gesucht, und den Ring nach wenigen Minuten gefunden. Ich bin einfach nur glücklich und völlig begeistert, wieviel Einsatz Björn geleistet hat. Er ist mein absoluter Ringfinderheld !!!
Karin Thaler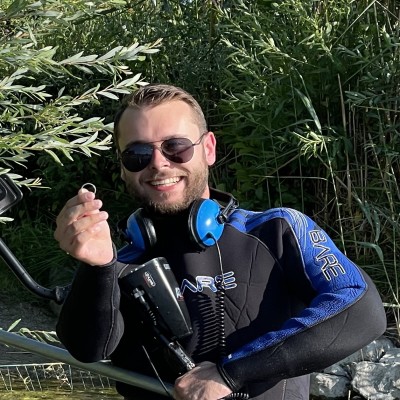 Das Glück liegt (fast) auf der Straße Im Allgäu spazieren gewesen, mit Schwung den Apfelgrips (bio natürlich und regional) ins Gras am Weg geschleudert - und der locker sitzende Ehering flog leider im hohen Bogen gleich mit. Drama! Seit fast 20 Jahren mein täglicher Begleiter! Die Flugbahn hatten wir in etwa gesehen, aber der Ring war so tief ins kniehohe Gras abgetaucht, dass selbst eine mehrstündige Suche nichts brachte. Was nun? Gegooglet, was in einem solchen Fall zu tun ist, und direkt bei ringfinder.eu gelandet. Ringfinder-Erfinder Janik sagte am Telefon, den Fall übernehme er gern selbst, weil er am Wochenende eh in die Gegend wolle - und schon vor der verabredeten Zeit wartete ein gutgelaunter Ringfinder samt technischer Ausstattung auf uns. Aber dann: Wir konnten zwar das Areal gut eingrenzen… immer wieder hektisches Piepsen des Suchgeräts, jedoch fand sich alles Mögliche aus Metall, nur kein Ring. Eine ganze Stunde bei immer heißerem Wetter und in immer größeren Kreisen suchte Janik gründlich und hochmotiviert ab, man könnte sagen, er drehte jeden Stein und Halm um, stacheliges Gebüsch hin oder her. Nichts. Es schien aussichtslos, bis Janik eine plötzliche Eingebung hatte und statt im hohen Gras die niedrigen Grasbüschel direkt am Wegesrand absuchte - wir waren wenig optimistisch, denn da hätten wir den Ring doch schon längst gesehen haben müssen! Da - ein Fiepen, ein Ringfinder, der zur kleinen Spitzhacke greift und aus doch beträchtlicher Bodentiefe… meinen Ring hervorholt!!! Riesige Freude allerseits und ein supergroßes Dankeschön an Janik!!!
anonymous
I was unfortunate enough to lose an 18ct gold with 1.5cts of diamonds on our 14 acre property while working!!!! Mind you the area I lost it was probably about 2 acres, long grass and a lot of tree branches! My husband had given it to me for our 20th wedding anniversary 6 mths prior! I was beside myself. Somebody suggested I hire a metal detector or 4! I put a post on our local Facebook marketplace, and Kyle replied within the hour. He basically said he was around where our property was, and was more than happy to come by and take a look! Kyle and his gorgeous wife arrived with 2 metal detectors and a wealth of experience and knowledge. They literally covered every square cm of the area I'd been working in. 3 hours later, I'd given up hope. Kyle said he'd go for one last look, and off he went. Much to my absolute astonishment and absolutely delight, he was successful! He never gave up, and was genuinely almost as happy as I was! I literally almost passed out with shock…..I thought it was gone forever!!! Kyle and Milli were so enthusiastic and caring! I cannot recommend Kyles incredible service if you ever find yourself in a situation with a piece of lost jewellery or something of sentimental value! 10/10 for service with a smile and a passion for helping!!! Thank you so so much Kyle and Milli!!!
Found, 18c bangle with 1.5c of diamonds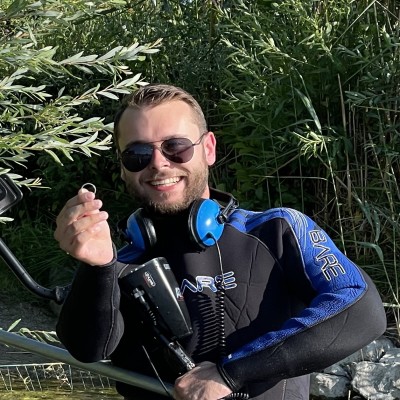 Am selben Tag an dem wir uns gemeldet haben war der Ring, der im See verloren gegangen ist, wieder da! Vielen Dank für die schnelle und nette Hilfe!
Paula Schwarz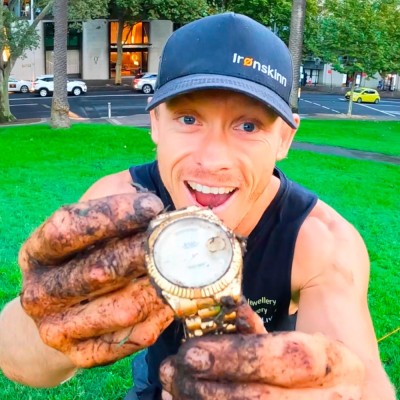 Thank you so so much Michael, the effort you put into finding our ring was incredible. my family and friends told me theres no hope and you won't find my fathers ring. just let it go they say its gone forever!!! my mother was very sad as you know my father recently passed away and this ring meant a lot to our family, when i spoke with you on the phone you were so confident even though the location is a 5km walk in mud just to get to you remained confident the whole way through. i still can't believe you found the ring. im going to tell everyone about ljrworldwide.com you guys are LEGENDS THANK YOU STEFANO
THANK YOU MICHAEL OLIVER