Register
Get started by verifying your email address and setting up your password.
Choose Location
Pick a location from our list of available locations.
Subscribe
Select subscription plan based on your preference and subscribe.
Success Stories
LOST PROPERTY, is this your apple watch or car key?
"Biblis" ein Geschenk eines Freundes
SEARCHING FOR $160K IN THREE DIAMOND WEDDING RINGS PART 1 OF 2
"Wiesbaden" very nice white gold ring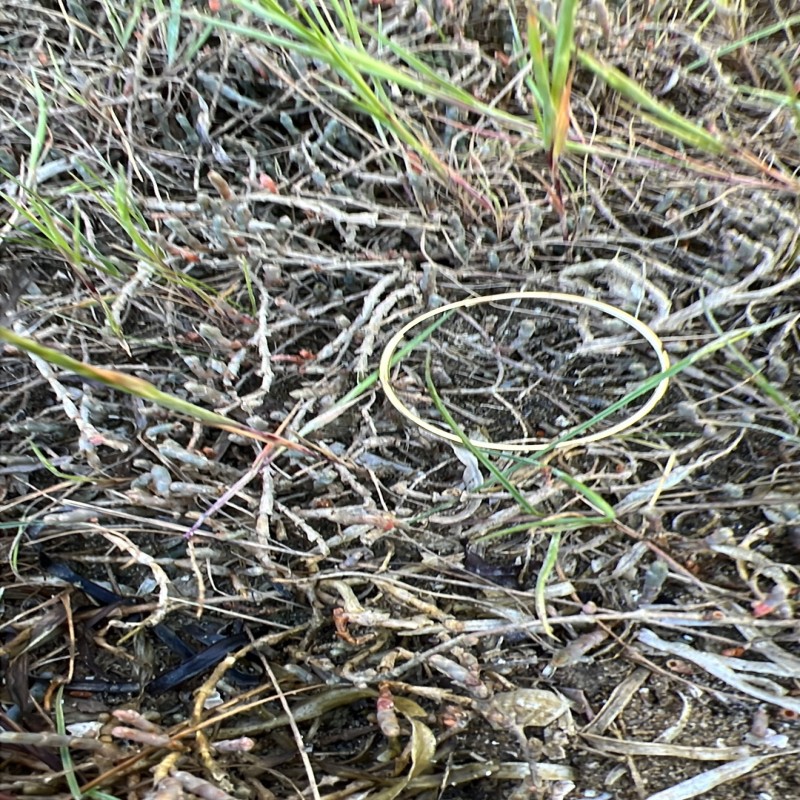 Sentimental gold earring recovery
Lost Ring Found at Red Leaf Pool Sydney, Returned to owner
Large diamond ring rescue
Bondi Beach Returned Carly's Grandmothers Wedding Ring
Lost Pendant Found in Lincoln RI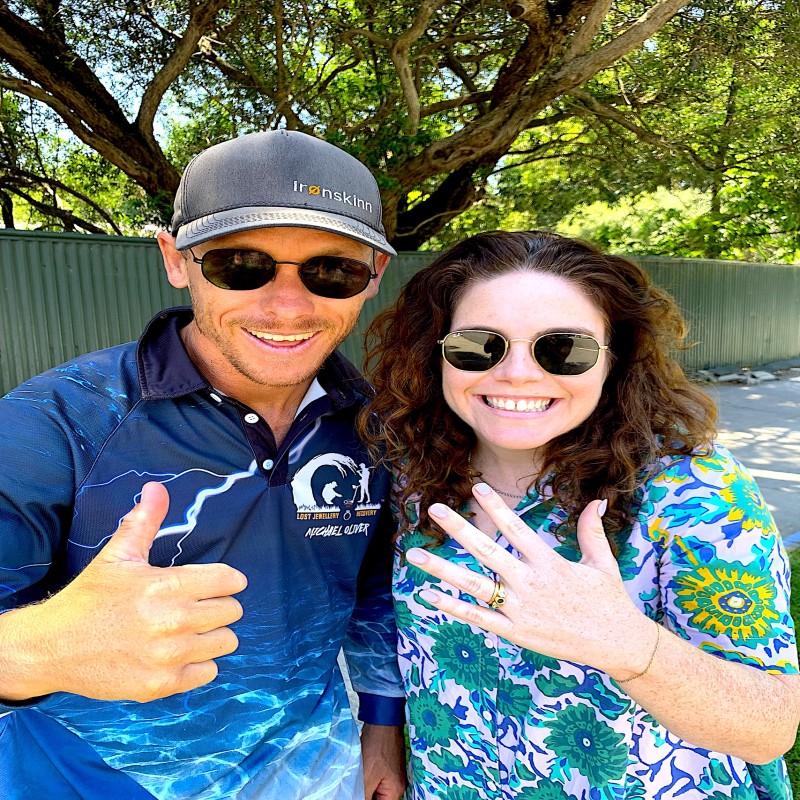 Alex Lost 2 Precious Gold Rings Underwater
Reviews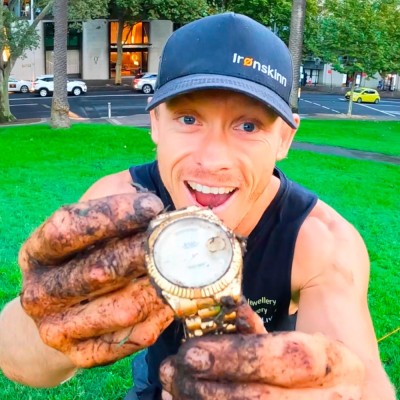 I can't thank you enough for finding my lost engagement ring, it's my 10 year anniversary this year, means the world to us what you did. The moment we met you, you gave us hope. We first thought before meeting you, you had no hope finding my ring. You are so positive and confident, you searched for hours with such a positive and professional attitude, we can see you truly love what you do. I can't imagine how many people you have helped over the years. You definitely saved a few marriages. How can I become a patron, I'd love to continue supporting your efforts, you're an inspiration, you even make YouTube videos. They are really nice to watch. Now my ring has a happy story we can share with our friends and family. I'll recommend you to everyone. Thanks so very much!
Kim
Answered a shout out on Social Media to assist with the recovery of a family heirloom. There was a beach wedding and the mom gave her daughter a 120 year old locket that belonged to her grandmother as a "something old". It was pinned to the brides dress but came loose during the celebration and was lost to the sand. I spent 3 hours hunting the areas of the ceremony and where photos were taken and was able to happily reunite the locket to a very relieved mom. "*** update the locket has been found Thank you Terry Smith for your help. It means so much to me that you were able to locate it. "
Reunited the Mother of the Bride with her heirloom locket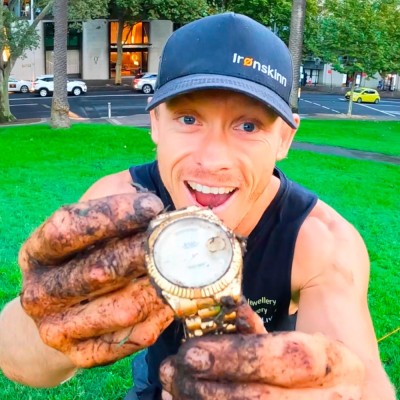 Thank You Michael for finding my families lost wedding rings, as you know my mother passed away 8 years ago and the last few days have been mentally devastating after the loss of the rings. I didn't know underwater metal detecting was even a thing and I seen your youtube videos. It's amazing how many people you help. Thank you Simon
Michael Oliver you Legend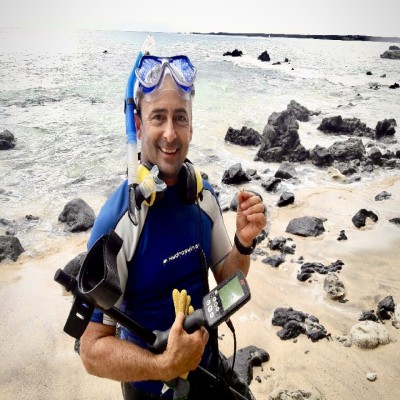 TESTIMONIAL: Adam, you are my hero! Thank you from the bottom of my heart! I just wanted to thank you again. My visit to the beach at our The Lodge & Club on 10/7/22 was one of the worst days because I lost my wedding band. When I saw you with your metal detector the following Sunday, I had no idea your talent when I approached you to ask if your equipment could find a lost ring. Our conversation gave me a glimmer of hope. When you texted me on Monday 10/10/22 with a picture of my ring, I was literally in tears that you had found my wedding band. It's truly a miracle. I am without words that express my gratitude. Adam, you are my hero! Thank you from the bottom of my heart!
GOLD DIAMOND WEDDING BAND RETURNED TO OWNER AFTER GIVING UP HOPE.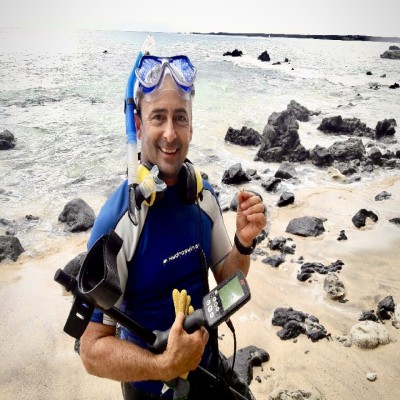 Testimonial: Adam!!!!! He is amazing! I lost my parent's wedding bands in the yard. I called Adam after searching for over a week with my own metal detector. Adam showed up and found both rings within less than 5 minutes! I'm eternally grateful ????????????????
2 GOLD SENTIMENTAL RINGS FOUND IN JACKSONVILLE, FL. .. BY LostJewelleryRecovery ADAM GREENBURG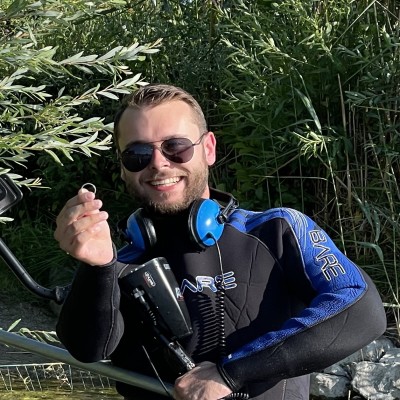 Vielen für den tollen Einsatz. Ehering im See verloren und durch Euch wieder gefunden. 💍. Vielen Dank, Ihr seid die Besten!!!
Michael Kelp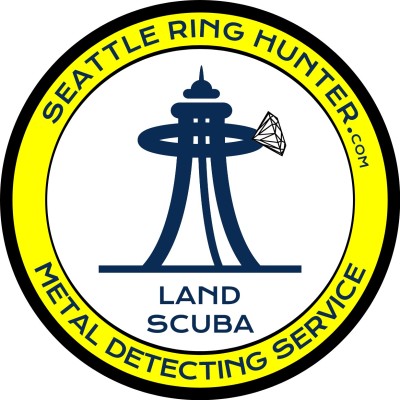 Jeff Morgan is a savior and gem of a person! My personal story starts off with losing my heirloom wedding ring in a snow covered national park in Seattle. I had lost all hopes of retrieving it and in that hopelessness I googled how to deal with losing a wedding ring and I found TheRingFinders.com I was surprised that such services exist and that they genuinely want to help. So I called Jeff who is one of the most experienced ring finders in Washington state. I am glad I connected with him since he is very detailed in asking the right questions and was prompt to schedule some time to head to the location where I assumed to have lost my ring. He had the tools and experience backing him on his journey to find my ring. Unfortunately, that day he couldn't find it. However, he didn't end his effort there. He informed the rangers and the maintenance people working there in case they find the ring once the snow melts. Jeff also shared some tips with me on how I can follow up to find the ring. That communication helped, since one day he was contacted by one of the maintenance employees who informed him that a ring with my description was found once the snow had melted! Jeff was proactive to inform me and even got me connected to the maintenance employee. Finally due to Jeff's communication, experience and commitment towards helping people to find their lost items, I got my ring back! It was unbelievable and I'm very thankful to God that I found Jeff to help me. Jeff is the guy who will go above and beyond to help anyone! Thank you Jeff!! Regards, Nancy - California
I'm very thankful to God that I found Jeff to help me. Jeff is the guy who will go above and beyond to help anyone! Thank you Jeff!!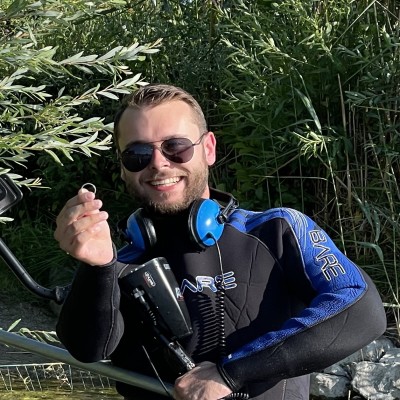 Danke an die Kooperation mit Ringjäger. Uns konnte erfolgreich geholfen werden.
Mario Mülsow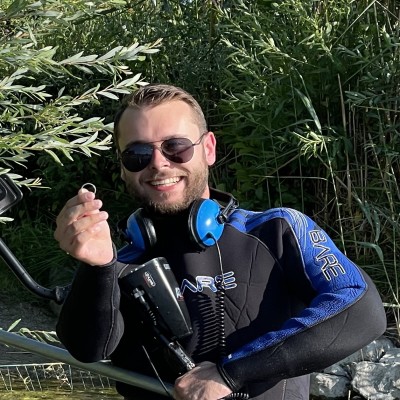 Am selben Tag an dem wir uns gemeldet haben war der Ring, der im See verloren gegangen ist, wieder da! Vielen Dank für die schnelle und nette Hilfe!
Paula Schwarz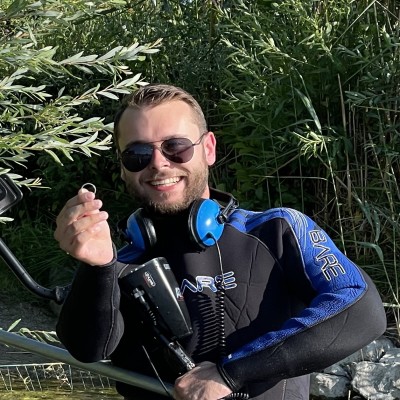 Beste Dudes, die mir aus einer schier aussichtslosen Situation geholfen haben! Schnelle Kontaktaufnahme, mega freundlich und engagiert und sich selbst nicht zu schade, für das Gute, 6 Stunden Autofahrt auf sich zu nehmen! Natürlich nur weil ich den kalten Finger im See unterschätzt habe und ich dadurch meinen Ehering im Urlaub verloren hatte! Selten so euphorisch gewesen, wie in dem Moment als er geborgen wurde! Dank geht raus an Steven aka Herr der Ringe und Janik!
fiese assel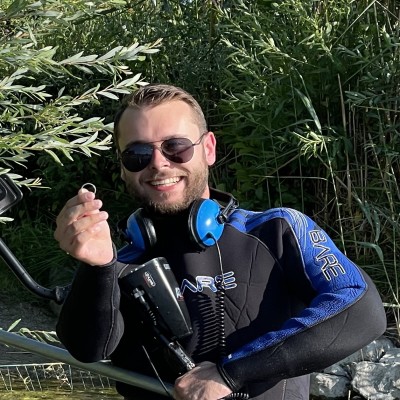 Ringfinder Jens aus Dortmund würde ich auch gerne mehr als 5 Sterne geben! Ich hatte den Anhänger einer Halskette im Sand eines Reitplatzes verloren. Nach dem Telefonat kam Jens noch am selben Abend und fand den Anhänger am nächsten Morgen! Vielen lieben Dank für die schnelle, freundliche und sehr kompetente Hilfe.
Michaela Lange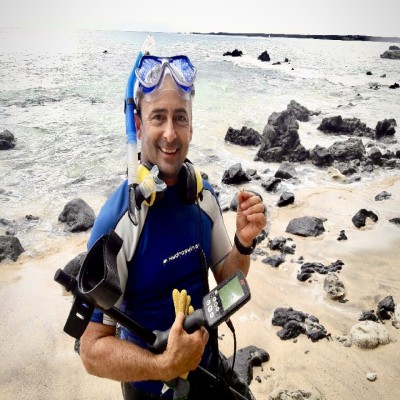 TESTIMONIAL: What started off as a fun 4th of July at Little Talbot Island Beach, quickly turned into panic when I realized my wedding ring and band came off of my finger in the water. Immediately we began to search the beach with no luck. I felt hopeless and I thought my last resort was informing the park rangers of the lost item and pray someone would stumble across it and return it. I left the beach knowing likely I would never see it again. Shortly after returning home, my husband's aunt sent me some information on steps to follow when you have lost a ring. She also came across the ringfinder.com site and sent it to me in case it could be helpful. I checked it out and searched our local area and came across Adam Greenburg. Not only did his solid experience and testimonies from other clients stand out to me but his personal values did as well. I felt confident if I had any shot at all of seeing my ring again it would be with some one like Adam. I contacted Adam on 4th of July, a couple hours after I left the beach. Even on a holiday he was kind enough to take my call, review details related to time the ring was lost, location, and even satellite imaging to get an approximate location. He checked tides and determined the best tide and time would be the following morning to start the search. Adam arrived to Talbot before opening and began his search immediately. He kept me up to date the entire search and ended up spending over 4 hours covering over three miles searching tirelessly for my rings. He informed me that he didn't come across them but would continue his search and that I shouldn't give up hope and that tides would be working in our favor the next couple days. I thanked him for his time and efforts and had peace knowing we gave it our best shot. On Thursday morning, 7/8 - to my surprise I received a picture from Adam of my ring and he said never lost faith! I immediately got tears in my eyes, I couldn't believe it, he found not only my wedding ring but my band!!! All I can say from first contact to the ring being found, Adam was absolutely outstanding! This was not just luck that the rings were found, this was a direct result of Adam's quick response and search efforts, his knowledge of his craft, knowledge of tides/ weather conditions, and his determination. Adam truly cared and understood how sentimental these rings were to me. As said from Adam "never lost faith"!
DIAMOND WEDDING SET LOST UNDERWATER IN JACKSONVILLE, LITTLE TALBOT ISLAND, FL. …RETURNED TO GRATEFUL OWNER.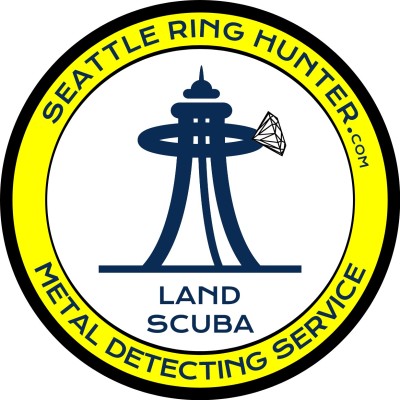 This truly was an unbelievable recovery. We live in AZ and the rings had been lost on the course for almost 3 weeks, there was a lot of doubt, but I had to try. I kept thinking, a year from now, if I don't at least give it my best shot, I would still wonder, what if? I am still in shock that we found them. When I look at them, it is with joy like never before. Thank you Jeff Morgan for agreeing to help us…..a 6 hour round trip in the car, and nearly 6 hours of searching. We couldn't have done it without you!
Thank you Jeff Morgan for agreeing to help us….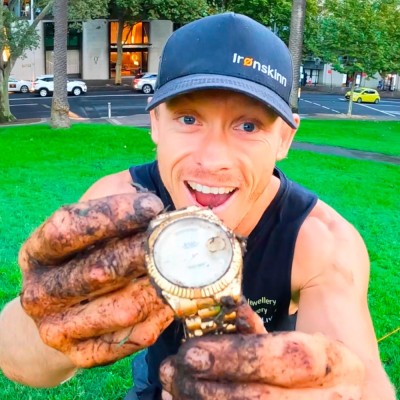 THANK YOU Michael, I can't express just how much my ring means to me and what it means to have it back. You were very understanding and patient with me and my friends kept telling me you'll find it, your like a machine so full of energy and positive the way you performed your search other people were telling me don't worry he'll find it. The life guards also speak highly of you your doing great things for people and I will let everyone I know about your service Thank you Lena
Lena