Our focus is finding and reuniting you with your lost property, on land and underwater - we can find it!
Register
Get started by verifying your email address and setting up your password.
Choose Location
Pick a location from our list of available locations.
Subscribe
Select subscription plan based on your preference and subscribe.
Success Stories
Diamond stud found on football pitch
Found $100,000 gold diamond Rolex
"Wiesbaden" very nice white gold ring
Helping a husband find his wife's wedding ring
Diamond Engagement Ring Found
Lost Pendant Found in Lincoln RI
SENTIMENTAL HEIRLOOM COIN LOST DURING WEDDING-Recovered and Returned to Owner.
Found Owners Lost Ring at Clontarf Beach Sydney Australia
SEARCHING FOR $160K IN THREE DIAMOND WEDDING RINGS PART 1 OF 2
IPHONE 13 LAKE DROP 50 FEET 10 DAYS NO DAMAGE LAKE SAMMAMISH
Child's prescription glasses, need to be returned
Found Owners Lost Engagement Ring in 30 minutes at Bondi Beach
Reviews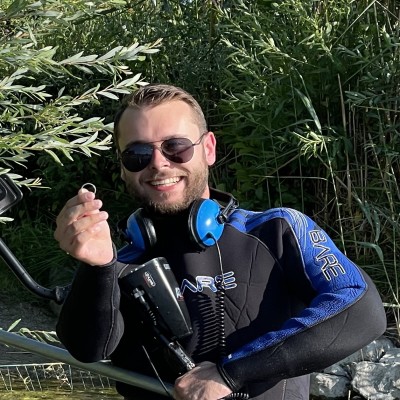 Unglaublich! Ich wusste gar nicht, dass es überhaupt die Möglichkeit gibt, sich externe Hilfe zu holen. Durch Zufall bekam ich den Tipp. Es war nicht die Nadel im Heuhaufen, aber der Ehering im Heuhaufen. Uwe hat ihn innerhalb von 10 Minuten gefunden, obwohl ich bereits über 6 Stunden gesucht hatte. Vielen vielen Dank für die schnelle Hilfe! Die Kontaktherstellung ging auch fix in problemlos. Ich bin begeistert!
Larissa S.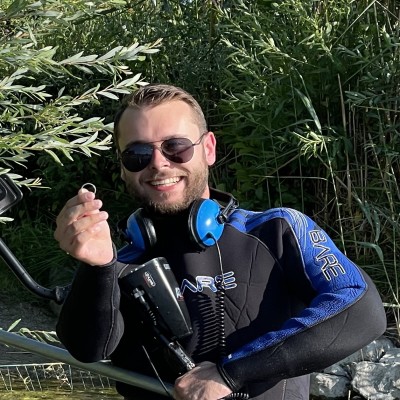 Vielen Dank an das Ringfinder-Team. Ich habe meinen Ehering im Strandbad verloren. Am nächsten Tag war ich vergeblich auf der Suche leider ohne Erfolg. Über verzweifelte Hilfesuche im Internet wurden wir auf Ringfinder.eu aufmerksam gemacht. Noch am gleichen Tag sehr nette und unkomplizierte Kontaktaufnahme. Ein sehr engagierter "Schatzsucher" aus Berlin hat sich trotz behördlicher Schwierigkeiten sofort und selbstlos am nächsten Tag auf die Suche gemacht und den Ring tatsächlich wiedergefunden. Ein unendliches Dankeschön...
Kristian Nehls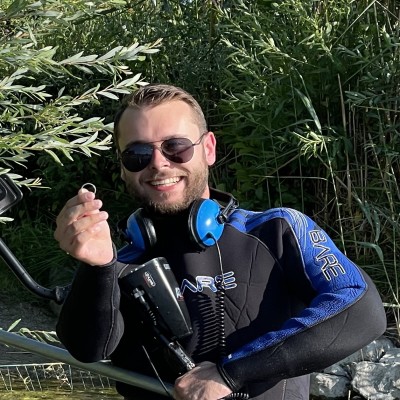 Ringfinder Jens aus Dortmund würde ich auch gerne mehr als 5 Sterne geben! Ich hatte den Anhänger einer Halskette im Sand eines Reitplatzes verloren. Nach dem Telefonat kam Jens noch am selben Abend und fand den Anhänger am nächsten Morgen! Vielen lieben Dank für die schnelle, freundliche und sehr kompetente Hilfe.
Michaela Lange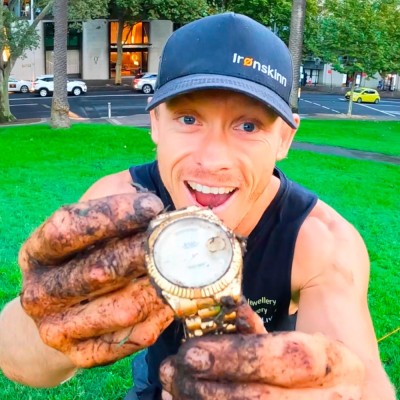 THANK YOU Michael, I can't express just how much my ring means to me and what it means to have it back. You were very understanding and patient with me and my friends kept telling me you'll find it, your like a machine so full of energy and positive the way you performed your search other people were telling me don't worry he'll find it. The life guards also speak highly of you your doing great things for people and I will let everyone I know about your service Thank you Lena
Lena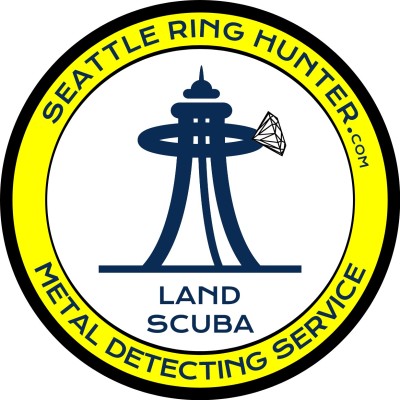 I wanted to share my incredible 10/10 experience regarding Jeff Morgan The Seattle Ring Hunter!!! I recently lost 3 very expensive rings in my deep backyard (1 engagement ring, 1 wedding band, and 1 jewelry ring). These rings had deep sentimental importance and were also valued at over $160K. . . . . . I knew they were lost in the deep woods of my large 10 acre property that was very sloped and difficult to even get through. Jeff has tremendous experience and ingenuity in developing a very strategic system to map out the yard and locate the ring(s) using intense attention to detail and various metal-detection equipment. The first 2 days there was no luck, but on the 3rd day 2 rings were found, and on the 4th day the 3rd and final ring was also found!!! It was one of the happiest moments of our lives, and we can't thank Jeff enough for his persistence, professionalism, determination, and positivity throughout the process. He is definitely a "People Person" with a warm personality and awesome communication skills. It is obvious he takes great pride in his work, and literally he changes people's lives where many have lost all hope and are in a very bad place. We whole-heartedly recommend and endorse Jeff Morgan The Seattle Ring Hunter!!! He is the best. Ed - North Bend, WA
Incredible 10/10 experience regarding Jeff Morgan The Seattle Ring Hunter!!!
Can't write enough positive things about Dave. We thought we completely lost my promise ring in the water that meant the world to me. Called Dave and he came as soon as he could and assured us it wouldn't be too hard to find. He was able to find it within 45 minutes and I can't thank him enough! I thought it was absolutely lost forever, but thanks to him the ring was found. Extremely thankful for him and would recommend him 100%! :)
Promissory ring Found and Returned at Makena Beach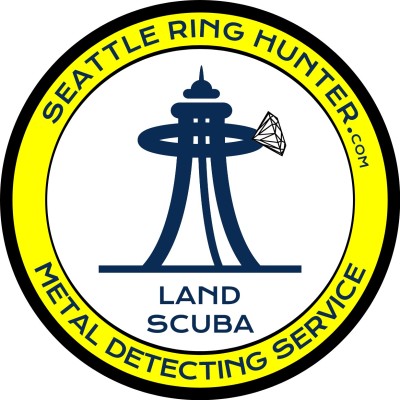 Jeff Morgan is a savior and gem of a person! My personal story starts off with losing my heirloom wedding ring in a snow covered national park in Seattle. I had lost all hopes of retrieving it and in that hopelessness I googled how to deal with losing a wedding ring and I found TheRingFinders.com I was surprised that such services exist and that they genuinely want to help. So I called Jeff who is one of the most experienced ring finders in Washington state. I am glad I connected with him since he is very detailed in asking the right questions and was prompt to schedule some time to head to the location where I assumed to have lost my ring. He had the tools and experience backing him on his journey to find my ring. Unfortunately, that day he couldn't find it. However, he didn't end his effort there. He informed the rangers and the maintenance people working there in case they find the ring once the snow melts. Jeff also shared some tips with me on how I can follow up to find the ring. That communication helped, since one day he was contacted by one of the maintenance employees who informed him that a ring with my description was found once the snow had melted! Jeff was proactive to inform me and even got me connected to the maintenance employee. Finally due to Jeff's communication, experience and commitment towards helping people to find their lost items, I got my ring back! It was unbelievable and I'm very thankful to God that I found Jeff to help me. Jeff is the guy who will go above and beyond to help anyone! Thank you Jeff!! Regards, Nancy - California
I'm very thankful to God that I found Jeff to help me. Jeff is the guy who will go above and beyond to help anyone! Thank you Jeff!!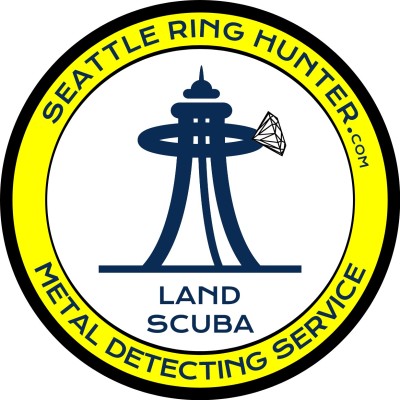 Jeff will be a family legend forever. I did not expect him to drive the lengths that he did, and certainly not at the TIME that he did, to recover my ring during low tide at the beach. The dedication Jeff has for this service is unparalleled and motivated by the love he has received from his Lord. The video says the rest. Jackie & I will always be grateful. -Jonathan Seattle, WA
Jackie & I will always be grateful...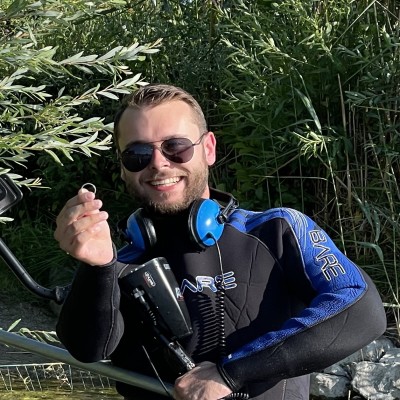 Ringfinder.eu, allen voran Yannik und Pascal, vielen Dank für das Wiederfinden meines Eherings im Bodensee. Kann euch nur loben. Alles sehr einfach und fair mit euch zu "arbeiten". Unglaublich wie schnell das gehen kann von Kontaktaufnahme bis zum wiederfinden des Ringes. Hat echt Spass gemacht und war verdammt interessant euch beim suchen zu beobachten. Normal würde jetzt folgen: "immer wieder gerne" aber seid mir nicht böse wenn ich trotzdem zukünftig mehr acht auf meinen Ring gebe will . Ebenso ein fettes Lob an Erik von auftragssuche.ch der uns ebenfalls unterstützt hat.
Sebastian Sickler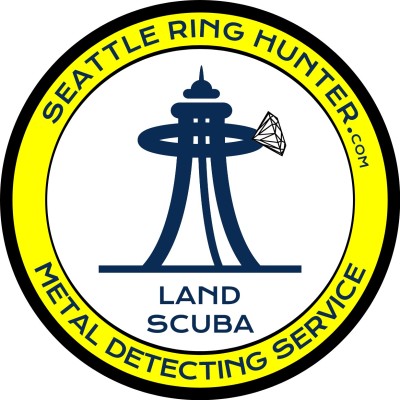 Jeff! Thank you so much!!! You made my day and I felt like I could breathe again. My ring means the world to me. I so appreciate your professionalism and knowledge and within minutes you found it. Hopefully I don't loose something again but if I ever need #SeattleRingHunter I know who to call! Thanks again! Christi Downs Bellevue, WA
My ring means the world to me. I so appreciate your professionalism and knowledge...
I was tagged on a social media thread about a lost wedding band. Sven and his partner had been working in the garden cleaning up the Fall leaves and getting ready for Spring planting when one of their matching wedding bands went missing. A beautiful Titanium/Platinum band that was exchanged by the newlyweds just months ago. Turned out to be a short hunt, but gratifying just the same. "We found the ring. Thank you to Terry Smith for coming today to help us find the ring. Took him 2 min and we found it in a bag of leaves!!!! We are so delighted to having found it."
Another Callout, Another Happy Return!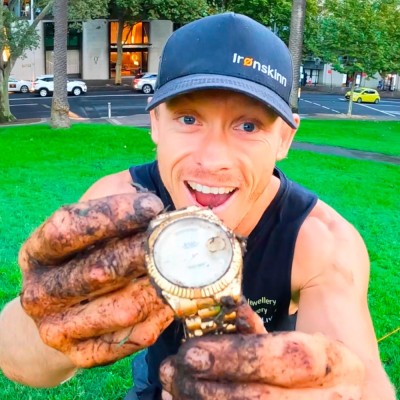 Thank you Michael Oliver for coming out to help me, My iPhone is only a year old and has all my Holiday photos on it along with all my contacts I have not backed up. It truly means the world to me, I didn't even know underwater metal detecting was even a thing!! Thank you so much I'm going to tell everyone about the incredible service you provide. Thanks Stef
Stefanie Lost iPhone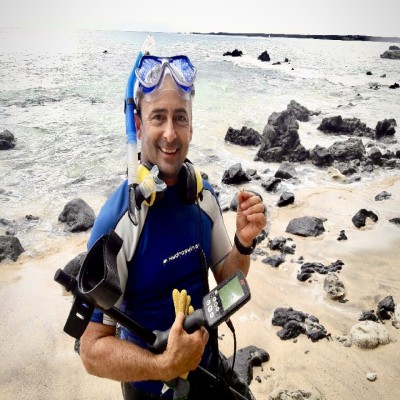 TESTIMONIAL: During Memorial Day Weekend, Me, my Brother and his kids, and my mom all went to the beach for some Sunday fun..After taking a quick dip in the ocean before leaving the beach, I looked down and saw that the worse thing that could ever happened had happened! My ring was missing! A Newlywed's worse nightmare!! Me and my mom couldn't sleep that night, we even tried waking up early the next morning and purchased a medal detector lol After spending hours on the beach and almost giving up. That's when I googled "Ring Finders near me" or "Help I lost my ring in the sand" and I came across Adam! After reaching out, Adam responded swiftly and of course he came to the rescue! The very next morning, Adam met my mom at the spot and eventually Adam was able to find the ring for me! We are so thankful for Adam and we are elated to know that there are still great people in the world! Thank you again Adam! ????????
GOLD AND DIAMOND WEDDING RING FOUND AND RETURNED TO OWNER.. JACKSONVILLE BEACH, FL.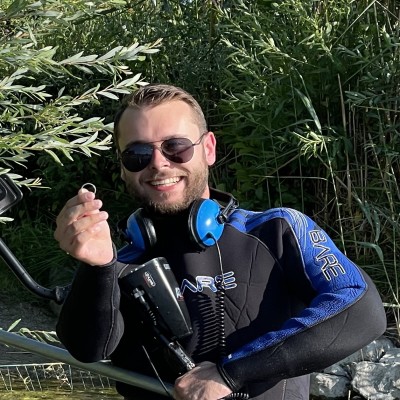 Ich hatte meinen Ehering verloren und nach zunächst erfolgloser Suche den Kontakt zu Ringfinder gesucht. Gemeldet hat sich Janik Ratke. Der Kontakt war sehr freundlich und Hilfsbereit. Schon im Telefonat wurden Gegebenheiten geklärt und ein Termin ausgemacht. Glücklicherweise ist der Ring dann doch noch gefunden worden. Für die freundliche und hilfsbereite Kontaktaufnahme möchte ich hier dennoch eine Bewertung hinterlassen. :)
K N
Answered a shout out on Social Media to assist with the recovery of a family heirloom. There was a beach wedding and the mom gave her daughter a 120 year old locket that belonged to her grandmother as a "something old". It was pinned to the brides dress but came loose during the celebration and was lost to the sand. I spent 3 hours hunting the areas of the ceremony and where photos were taken and was able to happily reunite the locket to a very relieved mom. "*** update the locket has been found Thank you Terry Smith for your help. It means so much to me that you were able to locate it. "
Reunited the Mother of the Bride with her heirloom locket