Our focus is finding and reuniting you with your lost property, on land and underwater - we can find it!
Register
Get started by verifying your email address and setting up your password.
Choose Location
Pick a location from our list of available locations.
Subscribe
Select subscription plan based on your preference and subscribe.
Success Stories
Garmin watch lost and found
Found Owners Lost Ring at Clontarf Beach Sydney Australia
2 GOLD SENTIMENTAL RINGS FOUND IN JACKSONVILLE, FL. .. BY LostJewelleryRecovery ADAM GREENBURG
Beautiful Engagement Ring Returned to Owner
Earring found in the water
Garden landscaping resulted in lost wedding band
RING LOST IN THE WATER Several Days Prior, Found & Returned to Owner PONTE VEDRA BEACH, FL.
Reunited Jackie with her Mother's Wedding Ring
(LOST & FOUND) PENRITH CABLES WAKE PARK, HELP FIND OWNER
Diving for Stefanie's Lost iPhone
Found Nick's Lost Wedding Ring
Reviews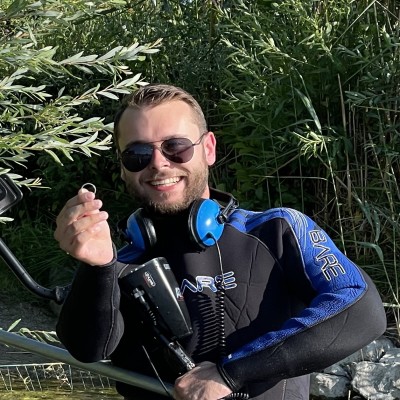 Vielen Dank für die sehr spontane und sehr schnelle Hilfe ! Ring war 1Woche im Neckar und konnte zügig gefunden werden. Sehr professionelle Geräte und viel Erfahrung machten dies möglich.
Philip Christner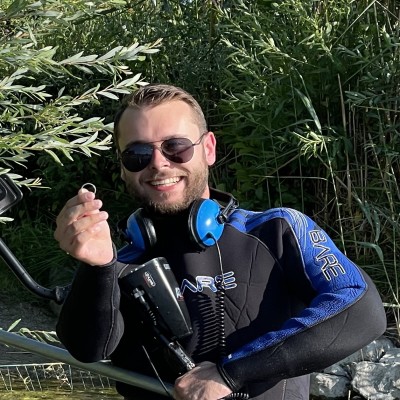 5 Stunden nach Kontaktaufnahme war der Ring gefunden! Super, top, danke!
Xian Xian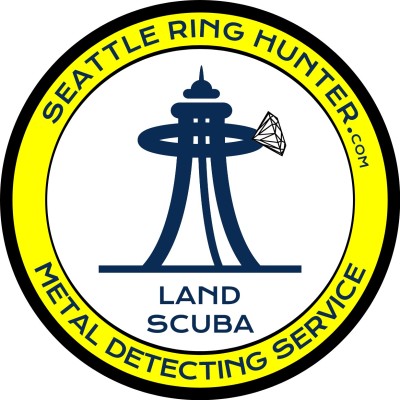 Jeff! Thank you so much!!! You made my day and I felt like I could breathe again. My ring means the world to me. I so appreciate your professionalism and knowledge and within minutes you found it. Hopefully I don't loose something again but if I ever need #SeattleRingHunter I know who to call! Thanks again! Christi Downs Bellevue, WA
My ring means the world to me. I so appreciate your professionalism and knowledge...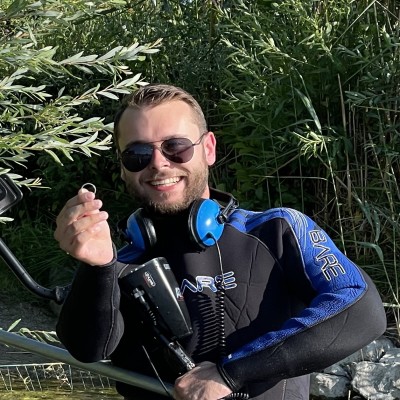 Haben unsere Ring nach 5 Minuten im Wasser wiedergefunden! Vielen lieben Dank! 🙌🏻
Laura Grossmann
It was the day before NYE on a remote beach north of Coffs when my partners daughter lost her engagement ring whilst camping. I found Michael in a Google search and asked if he knew of anybody in the Coffs Harbour area who may provide a metal detector service. He put me onto Kyle and he was immediately onto it, enthusiastic, checking tide times, his gear and ready to go. Kyle didn't hesitate with the hour long drive and 20-30km of it on gravel road, sand dunes and wading through the creek for the last section to the camp. He searched the sand through until 10pm under torch light with no luck, but he then returned the next morning. Within 20min he found it!! Thank you Kyle, you are such a genuine person, polite, professional and truely dedicated. Thank you so much for your effort. Helen
Engagement ring found at Pebbly Beach
I was unfortunate enough to lose an 18ct gold with 1.5cts of diamonds on our 14 acre property while working!!!! Mind you the area I lost it was probably about 2 acres, long grass and a lot of tree branches! My husband had given it to me for our 20th wedding anniversary 6 mths prior! I was beside myself. Somebody suggested I hire a metal detector or 4! I put a post on our local Facebook marketplace, and Kyle replied within the hour. He basically said he was around where our property was, and was more than happy to come by and take a look! Kyle and his gorgeous wife arrived with 2 metal detectors and a wealth of experience and knowledge. They literally covered every square cm of the area I'd been working in. 3 hours later, I'd given up hope. Kyle said he'd go for one last look, and off he went. Much to my absolute astonishment and absolutely delight, he was successful! He never gave up, and was genuinely almost as happy as I was! I literally almost passed out with shock…..I thought it was gone forever!!! Kyle and Milli were so enthusiastic and caring! I cannot recommend Kyles incredible service if you ever find yourself in a situation with a piece of lost jewellery or something of sentimental value! 10/10 for service with a smile and a passion for helping!!! Thank you so so much Kyle and Milli!!!
Found, 18c bangle with 1.5c of diamonds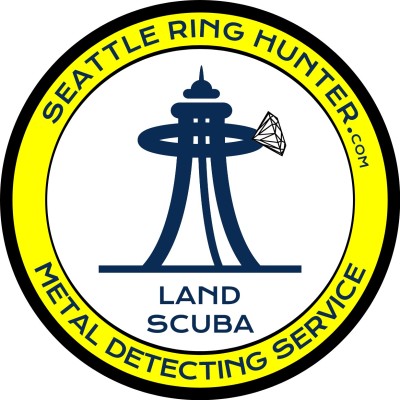 Working with Jeff was a pleasure. He's easy to be around, genuinely interested in helping people, and a master of his craft. His process started with a series of questions about how/where it was lost - assumptions were challenged, and facts were identified. He then developed a plan for the search and clearly communicated this with me. When he showed up I already knew what he was going to do, the gear he was going to use, and the reasoning behind it all. Using a variety of equipment, Jeff methodically searched a 50' radius from the assumed location of the ring in 36' of water, with a bottom time of over 3.5 hours, and only stopping when all three of his air tanks were empty. While we didn't find the ring, knowing we did everything we could to recover it was of huge value to me. I'd highly recommend Jeff to anyone looking to find a ring in the future. Tom Grapeview, WA
I'd highly recommend Jeff...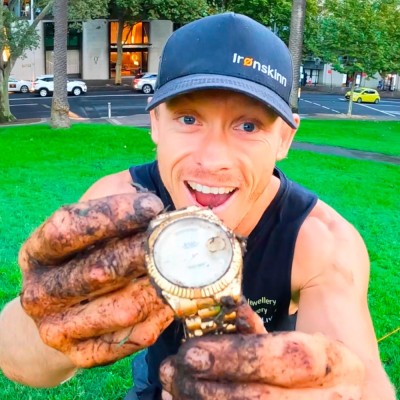 Thank you Michael Oliver for coming out today and helping me find my lost wedding ring. As you know I was Married for over 30 years, my wife passed away 20 years ago and to lose my ring really hurt. You run a great service, I'll let everyone know about ljrworldwide.com and loved your wetsuit by the way, you look like James Bond of finding lost rings. Thanks David
David's Lost Wedding Ring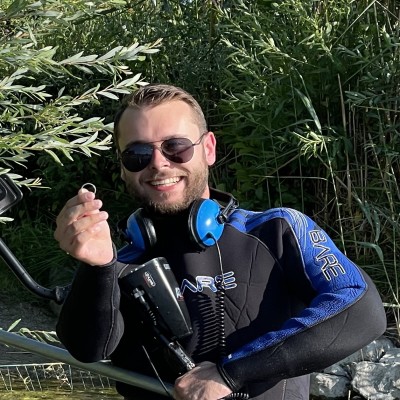 Sehr begeistert. 12 Stunden nach Erstkontakt kamen 2 sehr nette Taucher. Nach kurzer Einweisung und anlegen der Ausrüstung wurde Mein Ehering in 5 Minuten aus dem Baggersee geborgen. Danke Jungs
Patrick Schneeberger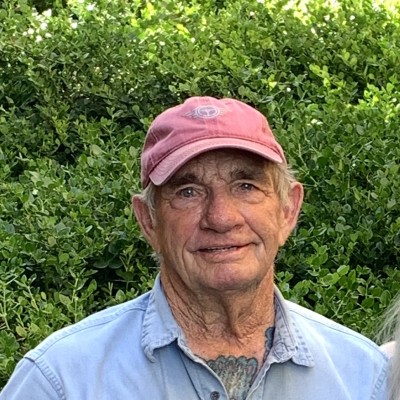 A short time ago this afternoon I arrived at my Aunt and Uncle's Vacation rental in #NewportBeach to a somber scene. It turned out that my Nana, Fina, walked out to the water and lost her footing when a small wave hit her and knocked her down. Upon getting up and drying off, she realized that her wedding ring was gone 😢. As most of you know, my Grandfather just passed away about a month ago, so his loss, coupled by today's situation, were becoming quickly too much for her to handle. Thanks to some quick thinking by my Cousin, Nicodemus, he was able to find Stan, the Metal Detector Man, a local businessman who quickly arrived and within an hour, he had my Grandmother's ring back on her finger!!! What could have been a disaster emotionally turned out to be a story we will remember forever. Thanks, Stan! You have no idea how much we appreciate what you were able to do!!
50 year old wedding band lost in surf, Newport Beach, California .. Recovered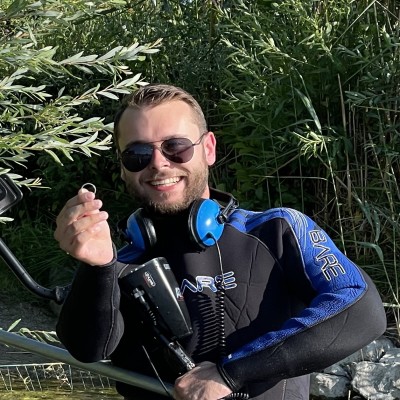 Meine Frau hat am 28.07.2021 ihren Ehering beim Baden in der Ostsee verloren. Noch in der selben Nacht hat uns Kai von Ringfahnder.de beraten und an Marcel und Lukas von Ringfinder.eu vermittelt. Mit den beiden haben wir uns am Abend des Folgetages zur Suche am Strand getroffen. Die beiden sind bestens ausgerüstet, erfahren, strukturiert und super freundlich. Während Lukas den Strand durchkämmt hat, ist Marcel ins Wasser gegangen. Nach gefühlten 2 Minuten war der Ring gefunden. Unglaublich! Von uns für alle Beteiligten eine klare Empfehlung in den Punkten: Kommunikation, Vertrauenswürdigkeit, Zuverlässigkeit und Professionalität. 1000 Dank noch einmal an alle und beste Grüße
Tamer Saka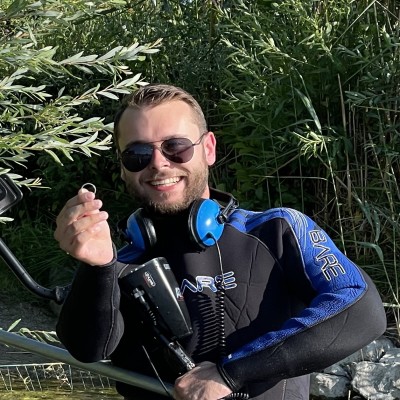 Das Glück liegt (fast) auf der Straße Im Allgäu spazieren gewesen, mit Schwung den Apfelgrips (bio natürlich und regional) ins Gras am Weg geschleudert - und der locker sitzende Ehering flog leider im hohen Bogen gleich mit. Drama! Seit fast 20 Jahren mein täglicher Begleiter! Die Flugbahn hatten wir in etwa gesehen, aber der Ring war so tief ins kniehohe Gras abgetaucht, dass selbst eine mehrstündige Suche nichts brachte. Was nun? Gegooglet, was in einem solchen Fall zu tun ist, und direkt bei ringfinder.eu gelandet. Ringfinder-Erfinder Janik sagte am Telefon, den Fall übernehme er gern selbst, weil er am Wochenende eh in die Gegend wolle - und schon vor der verabredeten Zeit wartete ein gutgelaunter Ringfinder samt technischer Ausstattung auf uns. Aber dann: Wir konnten zwar das Areal gut eingrenzen… immer wieder hektisches Piepsen des Suchgeräts, jedoch fand sich alles Mögliche aus Metall, nur kein Ring. Eine ganze Stunde bei immer heißerem Wetter und in immer größeren Kreisen suchte Janik gründlich und hochmotiviert ab, man könnte sagen, er drehte jeden Stein und Halm um, stacheliges Gebüsch hin oder her. Nichts. Es schien aussichtslos, bis Janik eine plötzliche Eingebung hatte und statt im hohen Gras die niedrigen Grasbüschel direkt am Wegesrand absuchte - wir waren wenig optimistisch, denn da hätten wir den Ring doch schon längst gesehen haben müssen! Da - ein Fiepen, ein Ringfinder, der zur kleinen Spitzhacke greift und aus doch beträchtlicher Bodentiefe… meinen Ring hervorholt!!! Riesige Freude allerseits und ein supergroßes Dankeschön an Janik!!!
anonymous
I lost my Ring at the new Fishers Beach/Park and one of the lifeguards told me about Tony. He showed up and found it within 15 minutes. I'm so thankful . Thanks again Tony
Chelle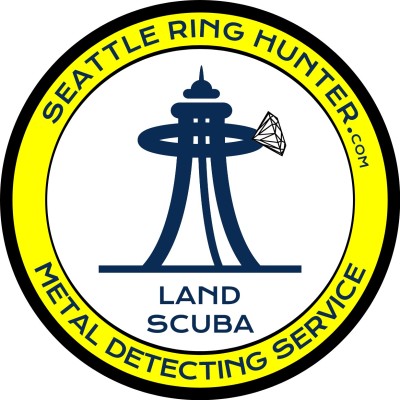 Jeff, All I ever wanted was just to find my phone, even in the condition you found it in. Now I can have closure and not be stuck. I can move on now. I am so grateful for your help. Lost My Phone Mill Creek, WA
I am so grateful for your help.