Register
Get started by verifying your email address and setting up your password.
Choose Location
Pick a location from our list of available locations.
Subscribe
Select subscription plan based on your preference and subscribe.
Success Stories
Lost Gucci Ring Found Bronte Beach
7 metre dive for owners lost Boat part
"Frankfurt" Die Besitzerin fand ihren Ehering selbst
The Weekend Prospector Show
Men's thin blue line ring
SEATTLE RING HUNTER RECOVERY SPECIALIST OF $21,000 IN HIDDEN ASSETS GOLD & SILVER
METEORITE WEDDING RING LOST FOR 25 DAYS IN PARK RECOVERED AND MAILED BACK TO OWNER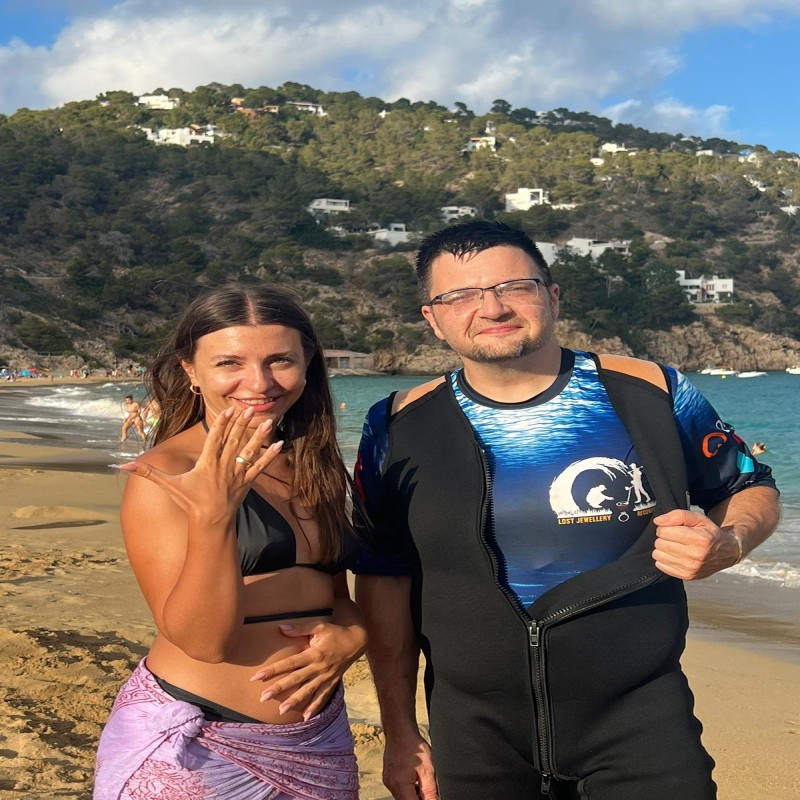 Found iPhone 13 Promax at Lake LBJ
Terrence lost his very important business phone.
Reviews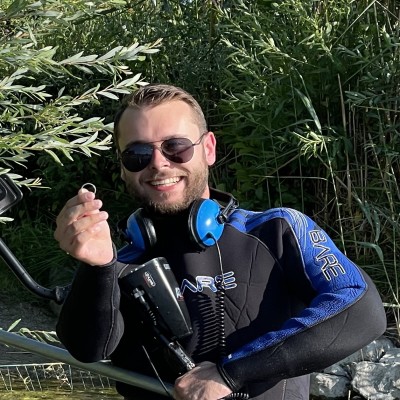 Sehr begeistert. 12 Stunden nach Erstkontakt kamen 2 sehr nette Taucher. Nach kurzer Einweisung und anlegen der Ausrüstung wurde Mein Ehering in 5 Minuten aus dem Baggersee geborgen. Danke Jungs
Patrick Schneeberger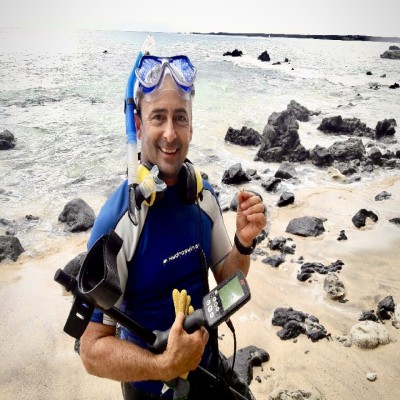 TESTIMONIAL: What started off as a fun 4th of July at Little Talbot Island Beach, quickly turned into panic when I realized my wedding ring and band came off of my finger in the water. Immediately we began to search the beach with no luck. I felt hopeless and I thought my last resort was informing the park rangers of the lost item and pray someone would stumble across it and return it. I left the beach knowing likely I would never see it again. Shortly after returning home, my husband's aunt sent me some information on steps to follow when you have lost a ring. She also came across the ringfinder.com site and sent it to me in case it could be helpful. I checked it out and searched our local area and came across Adam Greenburg. Not only did his solid experience and testimonies from other clients stand out to me but his personal values did as well. I felt confident if I had any shot at all of seeing my ring again it would be with some one like Adam. I contacted Adam on 4th of July, a couple hours after I left the beach. Even on a holiday he was kind enough to take my call, review details related to time the ring was lost, location, and even satellite imaging to get an approximate location. He checked tides and determined the best tide and time would be the following morning to start the search. Adam arrived to Talbot before opening and began his search immediately. He kept me up to date the entire search and ended up spending over 4 hours covering over three miles searching tirelessly for my rings. He informed me that he didn't come across them but would continue his search and that I shouldn't give up hope and that tides would be working in our favor the next couple days. I thanked him for his time and efforts and had peace knowing we gave it our best shot. On Thursday morning, 7/8 - to my surprise I received a picture from Adam of my ring and he said never lost faith! I immediately got tears in my eyes, I couldn't believe it, he found not only my wedding ring but my band!!! All I can say from first contact to the ring being found, Adam was absolutely outstanding! This was not just luck that the rings were found, this was a direct result of Adam's quick response and search efforts, his knowledge of his craft, knowledge of tides/ weather conditions, and his determination. Adam truly cared and understood how sentimental these rings were to me. As said from Adam "never lost faith"!
DIAMOND WEDDING SET LOST UNDERWATER IN JACKSONVILLE, LITTLE TALBOT ISLAND, FL. …RETURNED TO GRATEFUL OWNER.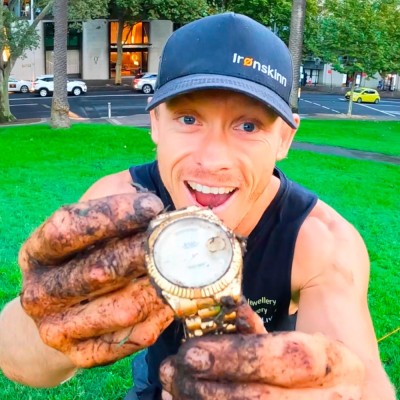 Michael Oliver you're an absolute legend, you really saved my marriage. My wife and I had our doughts when you turned up in a tuxedo wetsuit haha. Your commitment and enthusiasm to help is truly inspiring. Seeing you out there with waves crashing over your head for over 2 hours, you did not stop. Your like a machine, still can't believe you not only found the first ring we lost, you also found the second ring we lost in those heavy waves. If you lose your ring Michael's the man to find it, like Michael Oliver said to us. IF IT'S THERE I WILL FIND IT. Thank you Michael
Tracy & Ryan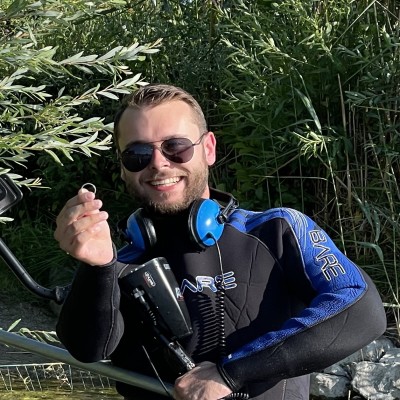 Haben unsere Ring nach 5 Minuten im Wasser wiedergefunden! Vielen lieben Dank! 🙌🏻
Laura Grossmann
It was the day before NYE on a remote beach north of Coffs when my partners daughter lost her engagement ring whilst camping. I found Michael in a Google search and asked if he knew of anybody in the Coffs Harbour area who may provide a metal detector service. He put me onto Kyle and he was immediately onto it, enthusiastic, checking tide times, his gear and ready to go. Kyle didn't hesitate with the hour long drive and 20-30km of it on gravel road, sand dunes and wading through the creek for the last section to the camp. He searched the sand through until 10pm under torch light with no luck, but he then returned the next morning. Within 20min he found it!! Thank you Kyle, you are such a genuine person, polite, professional and truely dedicated. Thank you so much for your effort. Helen
Engagement ring found at Pebbly Beach
I was unfortunate enough to lose an 18ct gold with 1.5cts of diamonds on our 14 acre property while working!!!! Mind you the area I lost it was probably about 2 acres, long grass and a lot of tree branches! My husband had given it to me for our 20th wedding anniversary 6 mths prior! I was beside myself. Somebody suggested I hire a metal detector or 4! I put a post on our local Facebook marketplace, and Kyle replied within the hour. He basically said he was around where our property was, and was more than happy to come by and take a look! Kyle and his gorgeous wife arrived with 2 metal detectors and a wealth of experience and knowledge. They literally covered every square cm of the area I'd been working in. 3 hours later, I'd given up hope. Kyle said he'd go for one last look, and off he went. Much to my absolute astonishment and absolutely delight, he was successful! He never gave up, and was genuinely almost as happy as I was! I literally almost passed out with shock…..I thought it was gone forever!!! Kyle and Milli were so enthusiastic and caring! I cannot recommend Kyles incredible service if you ever find yourself in a situation with a piece of lost jewellery or something of sentimental value! 10/10 for service with a smile and a passion for helping!!! Thank you so so much Kyle and Milli!!!
Found, 18c bangle with 1.5c of diamonds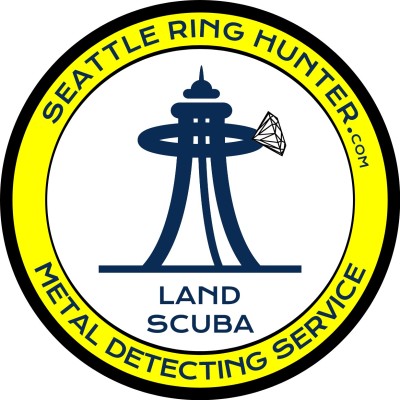 Working with Jeff was a pleasure. He's easy to be around, genuinely interested in helping people, and a master of his craft. His process started with a series of questions about how/where it was lost - assumptions were challenged, and facts were identified. He then developed a plan for the search and clearly communicated this with me. When he showed up I already knew what he was going to do, the gear he was going to use, and the reasoning behind it all. Using a variety of equipment, Jeff methodically searched a 50' radius from the assumed location of the ring in 36' of water, with a bottom time of over 3.5 hours, and only stopping when all three of his air tanks were empty. While we didn't find the ring, knowing we did everything we could to recover it was of huge value to me. I'd highly recommend Jeff to anyone looking to find a ring in the future. Tom Grapeview, WA
I'd highly recommend Jeff...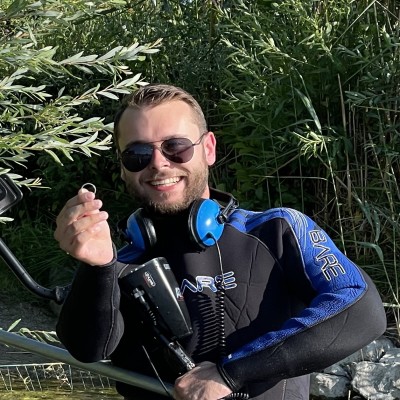 Das Glück liegt (fast) auf der Straße Im Allgäu spazieren gewesen, mit Schwung den Apfelgrips (bio natürlich und regional) ins Gras am Weg geschleudert - und der locker sitzende Ehering flog leider im hohen Bogen gleich mit. Drama! Seit fast 20 Jahren mein täglicher Begleiter! Die Flugbahn hatten wir in etwa gesehen, aber der Ring war so tief ins kniehohe Gras abgetaucht, dass selbst eine mehrstündige Suche nichts brachte. Was nun? Gegooglet, was in einem solchen Fall zu tun ist, und direkt bei ringfinder.eu gelandet. Ringfinder-Erfinder Janik sagte am Telefon, den Fall übernehme er gern selbst, weil er am Wochenende eh in die Gegend wolle - und schon vor der verabredeten Zeit wartete ein gutgelaunter Ringfinder samt technischer Ausstattung auf uns. Aber dann: Wir konnten zwar das Areal gut eingrenzen… immer wieder hektisches Piepsen des Suchgeräts, jedoch fand sich alles Mögliche aus Metall, nur kein Ring. Eine ganze Stunde bei immer heißerem Wetter und in immer größeren Kreisen suchte Janik gründlich und hochmotiviert ab, man könnte sagen, er drehte jeden Stein und Halm um, stacheliges Gebüsch hin oder her. Nichts. Es schien aussichtslos, bis Janik eine plötzliche Eingebung hatte und statt im hohen Gras die niedrigen Grasbüschel direkt am Wegesrand absuchte - wir waren wenig optimistisch, denn da hätten wir den Ring doch schon längst gesehen haben müssen! Da - ein Fiepen, ein Ringfinder, der zur kleinen Spitzhacke greift und aus doch beträchtlicher Bodentiefe… meinen Ring hervorholt!!! Riesige Freude allerseits und ein supergroßes Dankeschön an Janik!!!
anonymous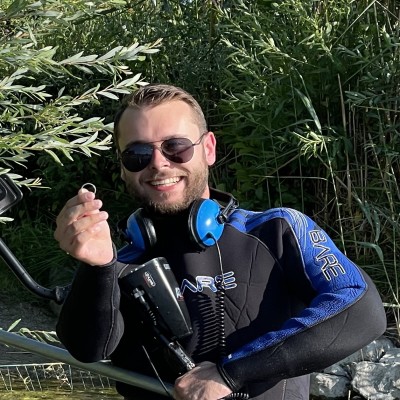 Mein Handy wurde in kurzer Zeit gefunden im See gefunden, voll funktionsfähig, war sprachlos.
Elsa Z.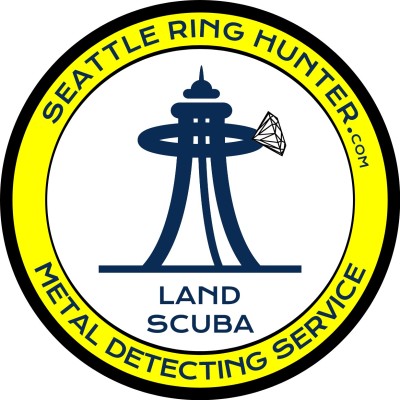 I wanted to share my incredible 10/10 experience regarding Jeff Morgan The Seattle Ring Hunter!!! I recently lost 3 very expensive rings in my deep backyard (1 engagement ring, 1 wedding band, and 1 jewelry ring). These rings had deep sentimental importance and were also valued at over $160K. . . . . . I knew they were lost in the deep woods of my large 10 acre property that was very sloped and difficult to even get through. Jeff has tremendous experience and ingenuity in developing a very strategic system to map out the yard and locate the ring(s) using intense attention to detail and various metal-detection equipment. The first 2 days there was no luck, but on the 3rd day 2 rings were found, and on the 4th day the 3rd and final ring was also found!!! It was one of the happiest moments of our lives, and we can't thank Jeff enough for his persistence, professionalism, determination, and positivity throughout the process. He is definitely a "People Person" with a warm personality and awesome communication skills. It is obvious he takes great pride in his work, and literally he changes people's lives where many have lost all hope and are in a very bad place. We whole-heartedly recommend and endorse Jeff Morgan The Seattle Ring Hunter!!! He is the best. Ed - North Bend, WA
Incredible 10/10 experience regarding Jeff Morgan The Seattle Ring Hunter!!!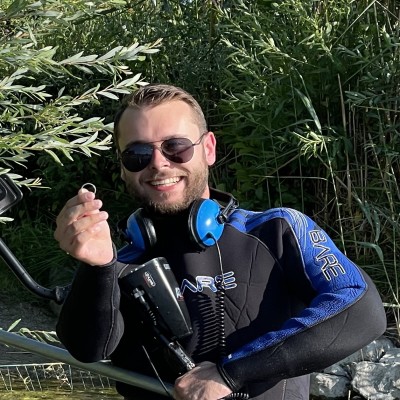 Leider sind nur 5 Sterne möglich, denn heute ist Herr Becker von Ringfinder.eu bei der Suche unseres vor 4 Monaten verlorenen Eherings und nur wenigen Erfolgschancen mit seinem Metalldetektor tatsächlich fündig geworden! Er ist sehr nett & kompetent! Vielen Dank & alles Gute!
Heidi Kusan
Testimonial From Anji Greene. "I want to express my sincere gratitude to Tom for his kindness and generosity in retrieving my iPhone 13 from a canal on Lake LBJ. My phone had been lost for 45 days, and I had already accepted that I would have to replace it. However, after finding Tom on Facebook, he offered to help me find it. He spent over 30 minutes searching for it with equipment and diving gear. He even had to add 30 pounds of weight to anchor himself down in the 4-5 feet of murky water to feel around in the algae and gunk to finally find my phone. I am so grateful to Tom. The phone amazingly works perfectly after drying it out. I would highly recommend his services to anyone who has lost a valuable item in the water. He is a very kind and generous person, and he is truly dedicated to helping others." https://youtu.be/jsByZ_u06Ko
Returned iPhone 13 Promax to Owner!
Answered a shout out on Social Media to assist with the recovery of a family heirloom. There was a beach wedding and the mom gave her daughter a 120 year old locket that belonged to her grandmother as a "something old". It was pinned to the brides dress but came loose during the celebration and was lost to the sand. I spent 3 hours hunting the areas of the ceremony and where photos were taken and was able to happily reunite the locket to a very relieved mom. "*** update the locket has been found Thank you Terry Smith for your help. It means so much to me that you were able to locate it. "
Reunited the Mother of the Bride with her heirloom locket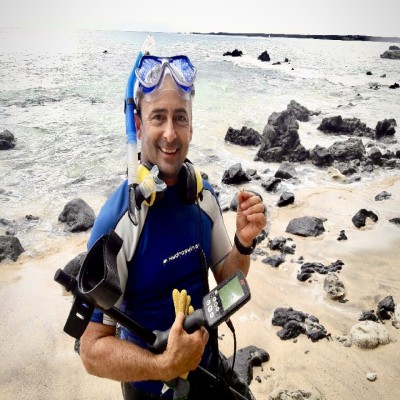 The weekend was off to a great start. My family and I were enjoying a sunny day on St. Augustine beach when suddenly I realized that my engagement ring had slipped off my finger in ankle deep water. We immediately began searching, attempting to take current and undertow into consideration. After an hour of searching we began googling someone to help. Adams name popped up and we gave him a call. He was extremely easy to communicate with and was headed our way in minutes. He showed up ready to search. HE FOUND MY RING. Both myself and my fiancé are so thankful for Adam and all he does! We cannot recommend his services enough. If you lost an item…Adam can find it! #Lostringflorida#LostJewelleryRecovery#LostJewelleryRecoveryStAugustine#metaldetectorrental#floridametaldetector#
Recovered engagement ring. St. Augustine, Fl.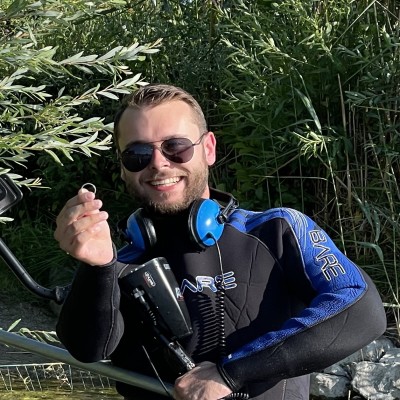 Am selben Tag an dem wir uns gemeldet haben war der Ring, der im See verloren gegangen ist, wieder da! Vielen Dank für die schnelle und nette Hilfe!
Paula Schwarz