Our focus is finding and reuniting you with your lost property, on land and underwater - we can find it!
Register
Get started by verifying your email address and setting up your password.
Choose Location
Pick a location from our list of available locations.
Subscribe
Select subscription plan based on your preference and subscribe.
Success Stories
Beautiful Engagement Ring Returned to Owner
Newly Wed's Lost Wedding Ring Recovered, Palm Beach
Lost Wedding Ring, Maroubra Beach Metal Detecting Service
Grandfathers Sentimental Gold Wedding Band lost and Recovered in Grass
SENTIMENTAL HEIRLOOM COIN LOST DURING WEDDING-Recovered and Returned to Owner.
Lena lost her 21st B,day present 🎁 Gold Ring 💍
GOLD & DIAMOND ENGAGEMENT RING LOST AT ST. AUGUSTINE BEACH, FL. RETURNED BY ADAM
EPIC IN HOME SEARCH FOR DIAMOND WEDDING RING SILVERDALE, WA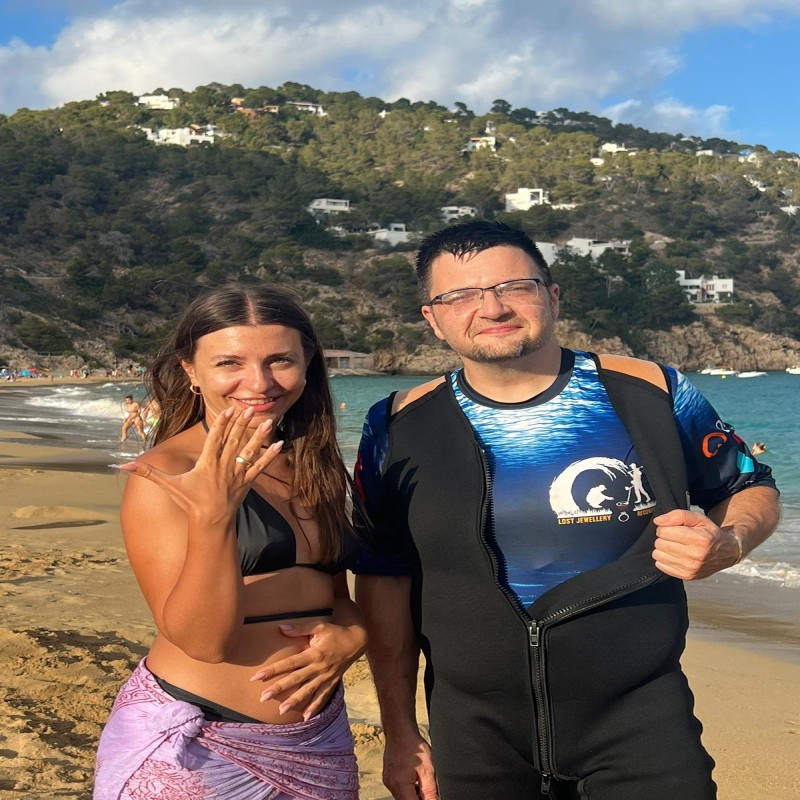 Men's thin blue line ring
"Frankfurt" Die Besitzerin fand ihren Ehering selbst
Reviews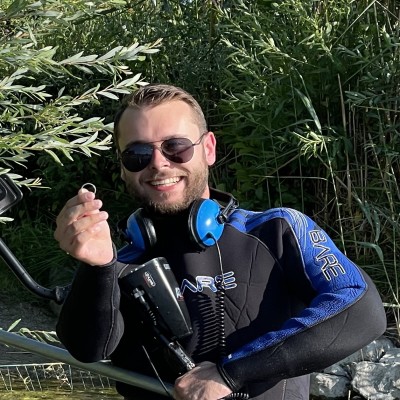 Am selben Tag an dem wir uns gemeldet haben war der Ring, der im See verloren gegangen ist, wieder da! Vielen Dank für die schnelle und nette Hilfe!
Paula Schwarz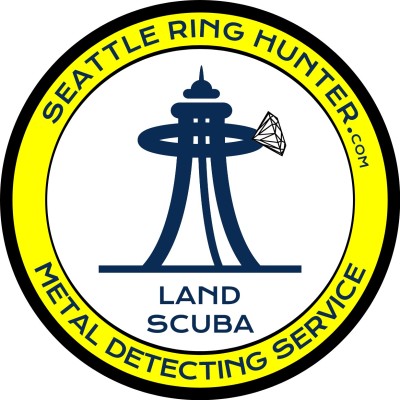 Jeff was very professional, consultative and well organized - and he found our sixteen year old daughter's gold pendant in Lake Washington. Thank you Jeff! The longer story. My sixteen year old daughter lost her pendant off a dock in Lake Washington - the necklace snapped and the pendant slipped through the slats on the dock. The pendant was a birthday gift and very meaningful to her so we knew we had to find it! We were lucky in that she marked the location where it had fallen into the water - so we knew we had a chance. When we first visited the spot I jumped in to look for the pendant - but the water was very cold and visibility under the dock was poor. We decided at that point that we needed a professional. We got lucky again when we found Jeff. He quickly reviewed the situation and thought we had a chance. The next day he brought his gear to the dock and located the pendant. Jeff for the win! Thanks again Jeff - our daughter is very happy and so are we! Thanks, Jason Young Seattle, WA
Jeff was very professional, consultative and well organized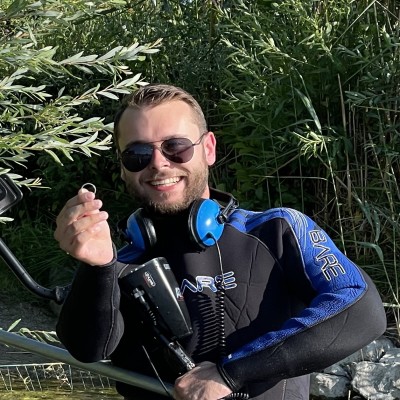 Freundlich, zuvorkommend, hilfsbereit! Tolle Truppe.
Lorenz Kraft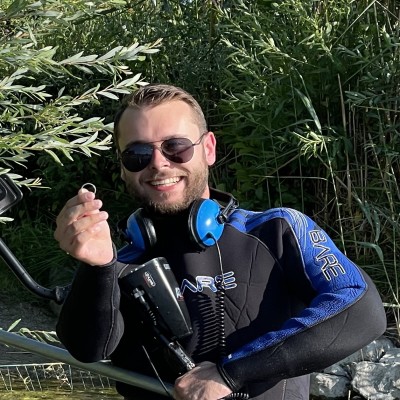 Janik hat meinen Mann seinen Ehering sehr schnell in einem See wieder gefunden. Wir hatten nicht mehr dran geglaubt ihn wieder zu bekommen, jedoch machte er uns Hoffnung und hat ihn tatsächlich wieder gefunden. Wir waren super glücklich darüber! Wir können Janik an jedem weiter empfehlen, super nett und versucht einem so schnell wie möglich bei der Suche zu helfen. Vielen lieben Dank dir nochmal! Viele liebe Grüße von Andrej und Lena
Lena Jungkunz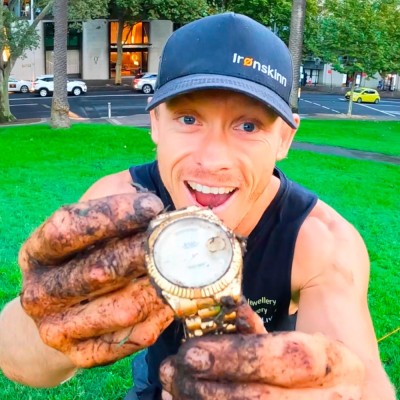 Thank you Michael Oliver for coming out today and helping me find my lost wedding ring. As you know I was Married for over 30 years, my wife passed away 20 years ago and to lose my ring really hurt. You run a great service, I'll let everyone know about ljrworldwide.com and loved your wetsuit by the way, you look like James Bond of finding lost rings. Thanks David
David's Lost Wedding Ring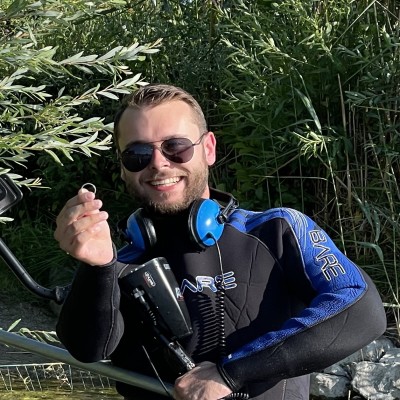 1000 Dank das ihr unseren Ring wieder gefunden habt. Ich kann es kaum glauben. Es war eine sehr freundliche Kontaktaufnahme und eine schnelle Abwicklung. Ich habt tolle Arbeit geleistet. Danke 🙏🏼
Sabrina Nehls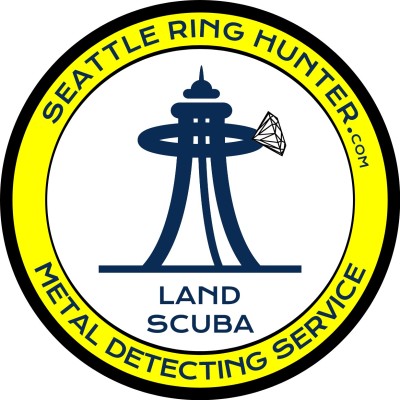 Working with Jeff was a pleasure. He's easy to be around, genuinely interested in helping people, and a master of his craft. His process started with a series of questions about how/where it was lost - assumptions were challenged, and facts were identified. He then developed a plan for the search and clearly communicated this with me. When he showed up I already knew what he was going to do, the gear he was going to use, and the reasoning behind it all. Using a variety of equipment, Jeff methodically searched a 50' radius from the assumed location of the ring in 36' of water, with a bottom time of over 3.5 hours, and only stopping when all three of his air tanks were empty. While we didn't find the ring, knowing we did everything we could to recover it was of huge value to me. I'd highly recommend Jeff to anyone looking to find a ring in the future. Tom Grapeview, WA
I'd highly recommend Jeff...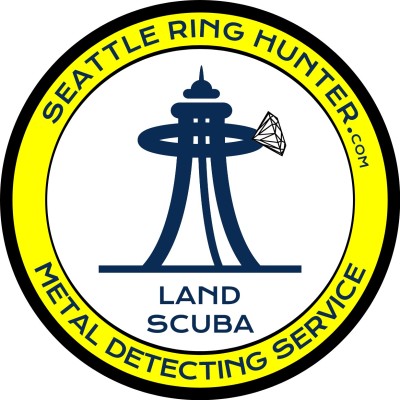 Jeff was quick to respond to my message about my lost wedding ring on a 25 acre ranch. He believed I had a good chance of recovery because of the details I had given him. He provided me with so much information about how he works to find things that it gave the hope back that I had lost after not finding my ring for 2 months. Jeff was very thorough and efficient. He was out in the rain for hours, making sure no piece of land was left un-searched. After 4 long hours of metal detecting, he found my ring in a completely different spot than I had told him I thought it was! He was amazing! Chelsea Johnson Olympia, WA
Jeff was very thorough and efficient...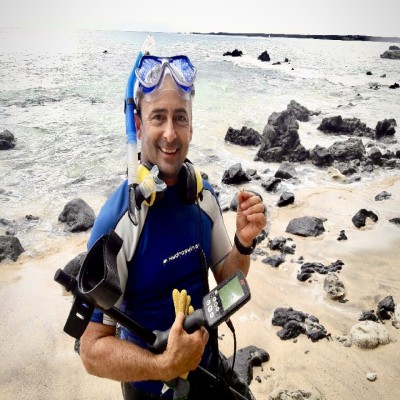 TESTIMONIAL: Adam, you are my hero! Thank you from the bottom of my heart! I just wanted to thank you again. My visit to the beach at our The Lodge & Club on 10/7/22 was one of the worst days because I lost my wedding band. When I saw you with your metal detector the following Sunday, I had no idea your talent when I approached you to ask if your equipment could find a lost ring. Our conversation gave me a glimmer of hope. When you texted me on Monday 10/10/22 with a picture of my ring, I was literally in tears that you had found my wedding band. It's truly a miracle. I am without words that express my gratitude. Adam, you are my hero! Thank you from the bottom of my heart!
GOLD DIAMOND WEDDING BAND RETURNED TO OWNER AFTER GIVING UP HOPE.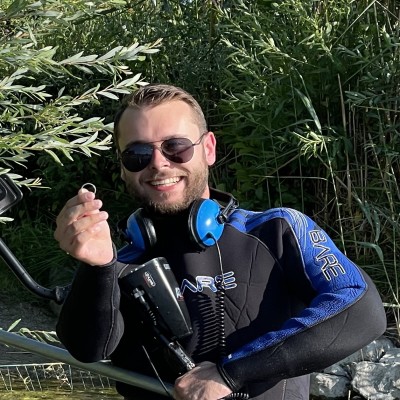 Habe Sonntag meinen Ehering verloren, dann bei der Hotline angerufen und uns wurde noch am gleichen Tag weiter geholfen und haben somit den Ring auch Sonntag wieder gefunden, wir alleine hätten dies niemals geschafft. Alle waren sehr nett und zuvorkommen. Ich bin so froh meinen Ring wieder zuhaben und sehr dankbar für die Hilfe von Ringfinder.eu. Nochmal ein riesengroßes Dankeschön ☺️
Sarahlein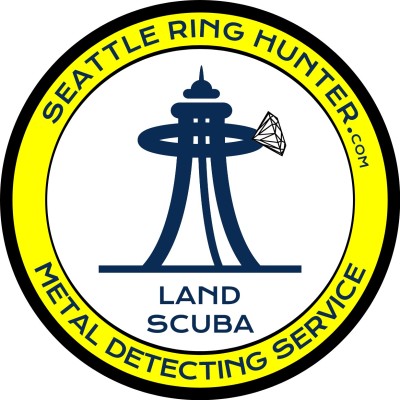 Jeff will be a family legend forever. I did not expect him to drive the lengths that he did, and certainly not at the TIME that he did, to recover my ring during low tide at the beach. The dedication Jeff has for this service is unparalleled and motivated by the love he has received from his Lord. The video says the rest. Jackie & I will always be grateful. -Jonathan Seattle, WA
Jackie & I will always be grateful...
I am in absolute disbelief, Dave is a miracle worker!! I lost my engagement ring a couple feet into the water at low tide and looked around for an hour with goggles unable to find it. My husband called Dave the next morning and he came out right away with a water proof metal detector scanning around where I lost it. He found it within 30 minutes!!! I had already grieved it as gone forever - my great grandma's engagement ring that had been in my family for 120 years - and he found it!!! I am so so grateful to Dave! Such a nice person and so incredibly good at his job!!!
120 Year old Heirloom engagement ring Found in the ocean
Answered a shout out on Social Media to assist with the recovery of a family heirloom. There was a beach wedding and the mom gave her daughter a 120 year old locket that belonged to her grandmother as a "something old". It was pinned to the brides dress but came loose during the celebration and was lost to the sand. I spent 3 hours hunting the areas of the ceremony and where photos were taken and was able to happily reunite the locket to a very relieved mom. "*** update the locket has been found Thank you Terry Smith for your help. It means so much to me that you were able to locate it. "
Reunited the Mother of the Bride with her heirloom locket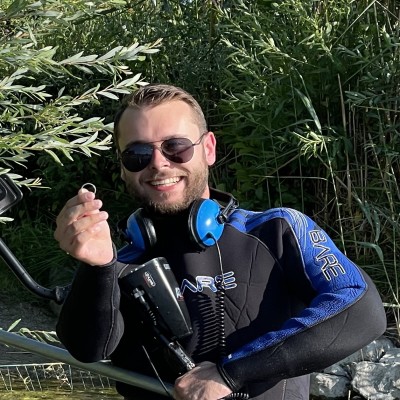 Vor 3 Wochen habe ich beim Ballwerfen für meinen Hund meinen Ehering verloren. Da dieser mit dem Vorsteckring und dem Ehering meiner verstorbenen Mutter zusammen gelötet war , stellte er für mich einen sehr hohen emotionalen Wert dar. Trotz häufiger Suche ,auch mit einem Metalldetektor ,haben wir ihn nicht gefunden. Über FB bekam ich den Tipp, Kontakt zu den Ringfindern aufzunehmen. Innerhalb einer Stunde, nach dem ersten Gespräch, hat sich Björn bei mir gemeldet und am selben Tag mehrere Stunden die Wiese abgesucht. Leider ohne Erfolg. Er hat 3 Tage später, nochmal gesucht, und den Ring nach wenigen Minuten gefunden. Ich bin einfach nur glücklich und völlig begeistert, wieviel Einsatz Björn geleistet hat. Er ist mein absoluter Ringfinderheld !!!
Karin Thaler